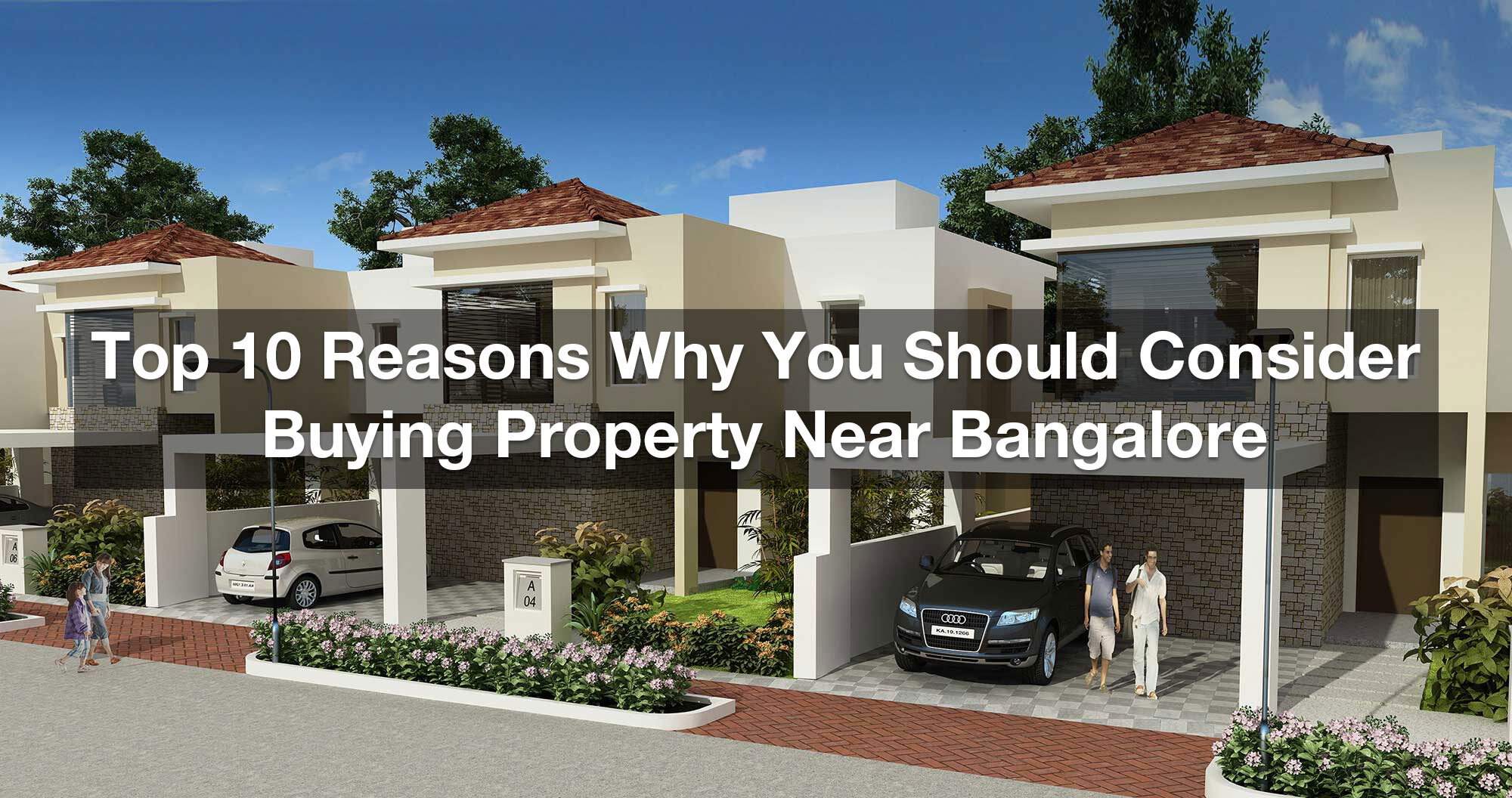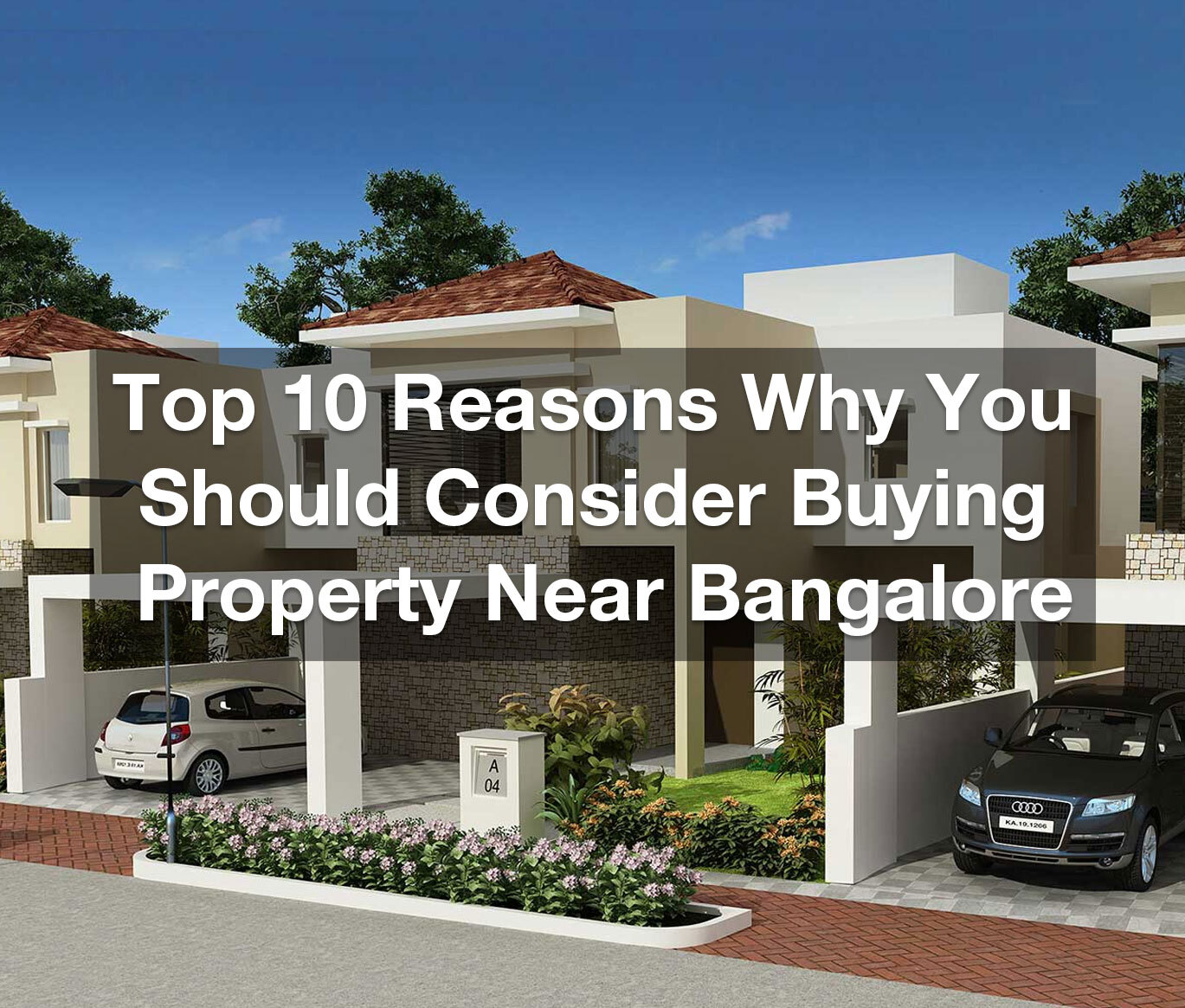 Top 10 reasons why you should consider buying property near Bangalore
Bangalore the IT capital of India is always witnessing the IT boom. And thus, people flew into Bangalore to find their dream home and build a great career. With this inflow, the need for residence also increased and thus the real estate. Real estate has shown steady growth in Bangalore since its advent in the city. Some people bought properties to settle down while others went for rentals. There are many who buy properties in Bangalore to live and buy it as a future investment. With the high demand for properties, there are various residential apartments for sale in Bangalore. When it comes to the question of whether one should buy or rent a property in Bangalore, the answer remains the same. It is always better to buy a property rather than rending one.
When the whole country is hit by Covid19, Bangalore is still up and running. In the present scenario, with the home loan interest rates slashed, the real estate market is witnessing a huge growth. Most of the ongoing residential projects in Bangalore are highly in demand now. If you are a person who is looking for your dream home in Bangalore, now is the right time to grab your chance. Read on to find some of the reasons why you should buy a property in Bangalore.
Future returns
Investing in a villa, apartment, villa plot, or any kind of property in Bangalore, you are signing up for future returns. If you buy a property now, you will get better returns in the future, regardless of whether it's a house, villa, apartment, or villa plot. If you move out of the city, your home can be turned to a source of revenue generation or you can make it a getaway place where you can go frequently to refresh yourself. You can even sell your property and you can rest assured that the prices will go high and not low.
Growing market
Bangalore is a highly growing market for the real estate industry. There are numerous ongoing residential projects in Bangalore and the number of this is increasing. As the demands increased, the market grew. The real estate growth hugely depends on the IT world and the advent of IT companies is increasing in the passing days. So, it is always great to buy something and one day it will come as a saviour for you.
Community living
As a cosmopolitan city, Bangalore has a multicultural and diverse population. Living in an apartment or a villa, you get to mingle with a huge crowd who have moved to the city to work in the major MNCs and IT parks. So, one of the major things you will earn when you buy a house in Bangalore is contacts. Contacts are useful as they will help you in your profession living in a community. Your young ones will get greater exposure.
Steady appreciation
To cater to the growing population of Bangalore real estate companies are developing various housing options and there are lots of ongoing residential projects in Bangalore. Apart from these, the companies offer villas, plots, and villa plots. With the increase in real estate developments, the land appreciation and rates of the apartments increases. If you buy a property now, you can sell it or rent it later at a higher price. The appreciation of the property will increase every year.
Price advantage
When compared to the other metropolitan cities in India, Bangalore hosts the most affordable residential properties. With an amount of money you spend on an apartment in busy cities like Mumbai and Delhi, you can buy an independent home in Bangalore. Without spending all of your money, you can buy a first-class home or property with all the amenities in Bangalore. Apart from this, as the IT capital in India, land appreciation is high and is increasing every year. This promises you a passive earning or a great investment in the future.
A quality living
The quality of life improves with quality housing. With great ongoing residential projects in Bangalore set in a great atmosphere and with all your needs near you, the properties promise you a quality living. Most of the sites for sale in Bangalore by the renowned builders are also surrounded by a great environment that compliments the living of the residents. If you look at these sites for sale in Bangalore, they will be in close proximity to the hotspots including schools, offices, shopping malls, airports, metro stations, and the like.
Resort-like living
Most of the villas in Bommasandra and various other parts of Bangalore will gift the buyer a resort-like living with a great atmosphere and surroundings. The housings, be it an apartment, villa, or independent house, it comes with an exuberant ambience which will give a holiday feel. Your investment now can give you a stylish retirement home for you.
Safe & secure
Safety is one of the biggest concerns that run in the mind of a buyer when buying the house. If you are a family with children, you will look for a safe environment to reside in. Villas in Bommasandra road and other regions of Bangalore come with a gate community, giving priority to safety and privacy. With round the clock security provided by most of the trusted builders, you and your family can live happily knowing you are safe. When it comes to safety, most of the reputed builders make you safe with a structurally sound property. Living at the renowned Pride Group's Vatika villas, you can rest worriless as the leading builder gives utmost importance to the construction quality and the safe living of the people. With 24/7 surveillance and security on guard, in this present Covid19 situation you will know who entered your villa. All the people are checked before they enter all the Pride property premises.
World-class amenities
Most of the companies while constructing housing will keep in mind the foreigners and the IT employees working in Bangalore. Thus, the construction quality and the amenities provided with the housing will be top-notch. Most of the best builders in Bangalore have residential apartments for sale in Bangalore with lots of amenities for the buyers. They have properties including villas, apartments, and more with world-class amenities like reading rooms, clubhouses, swimming pools, parks, jogging tracks, gyms, and more giving one a great living space that will complement one's lifestyle.
The availability of housing choices
The most interesting thing about Bangalore is that it has a wide range of housing options. Whatever you are looking for will be available in the city where the real estate flourishes. Every part of the IT hub has luxurious villas, township projects, apartments, plots, independent houses, villa plots, and townhouses for sale which will complement the living of the buyer. Most of these houses are available in different price ranges that will appeal to all types of buyers. The availability of housing is high as the IT boom is the core of the city. In Bangalore, you have a million choices to choose from.
With great properties for sale in Bangalore, Pride Group is one of the leading real estate companies in the city that aims to provide you a great living space that will complement your life and elevate your lifestyle. With over 20 years of experience in the real estate market, the builder has set a standard for the best living space with its bold contemporary designs, eye to detail, excellent engineering values, and uncompromised focus on ethics. You can live the life you imagined in any part of Bangalore with Pride Sunrise, Pride Enchanta II, and Pride Crosswind villas situated in various parts of Bangalore. If you want to invest in a plot, Pride Meadows, Pride Crosswind villa plots are your saviours.
If you are in Bangalore and are planning to settle in the city, buy a brand-new home, and invest in a better future. Buy the best housing which is convenient and adds to all your needs. There are various sites for sale in Bangalore which can host your dream home. But one should make sure that they buy from a trusted builder to live with a peaceful mind in their dream home. Think and research before you buy your dream home. Want to learn more about buying a plot in Bangalore? Check out some of the tips to buy a budget apartment in Bangalore.