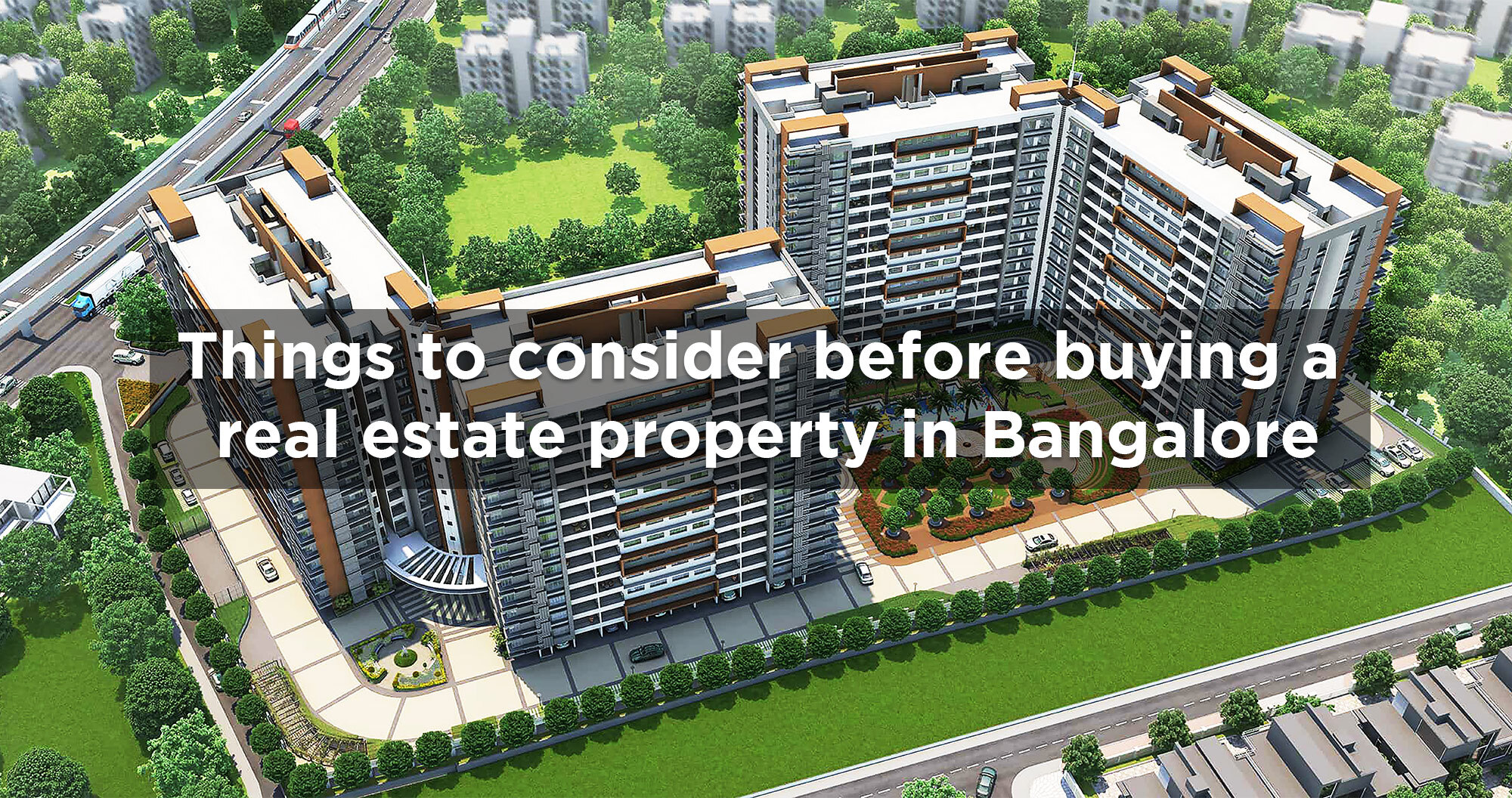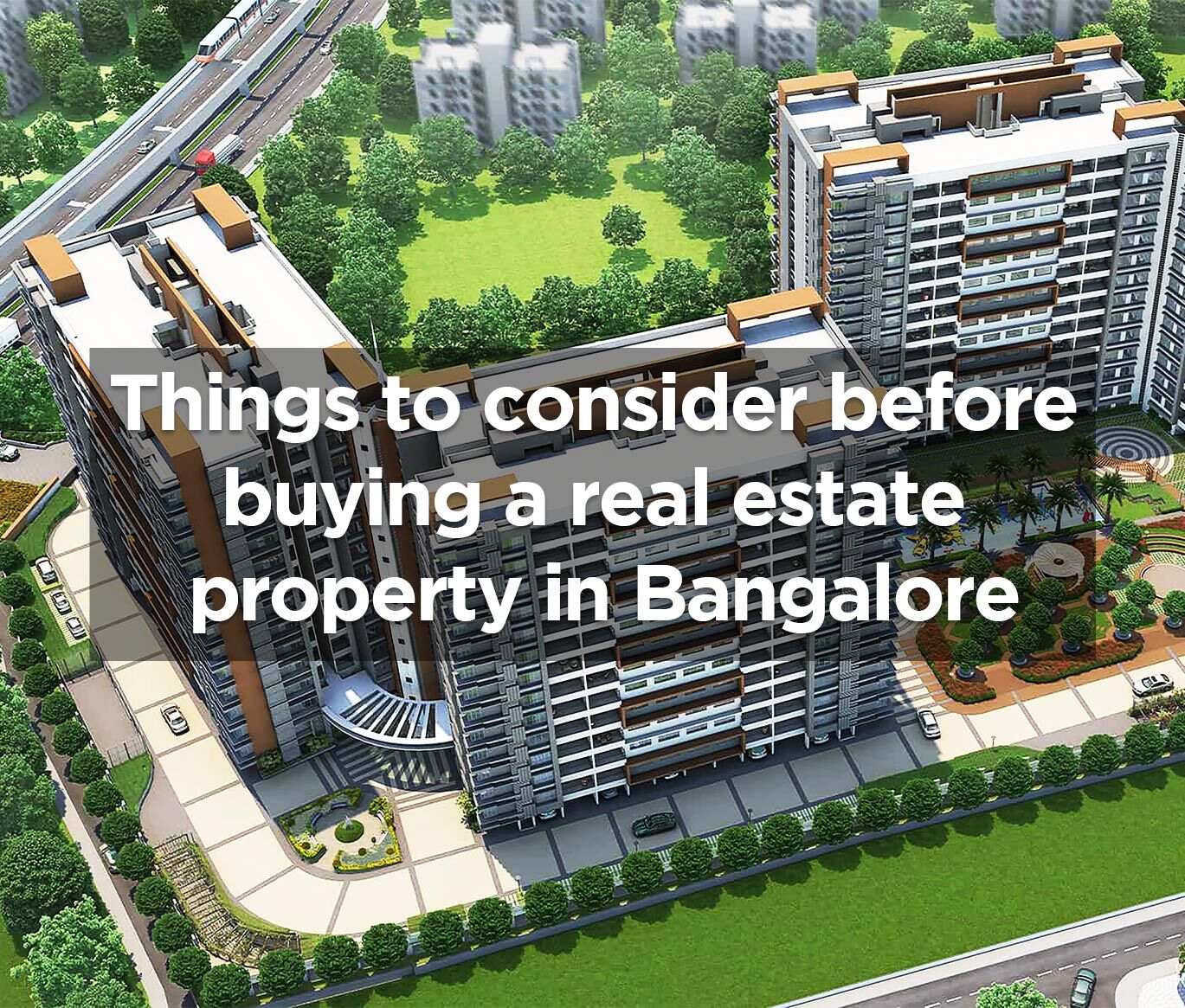 Important Things to consider before buying a Real Estate Property in Bangalore
Every one of us desires to move into the dream house that we have pictured in our minds. We need not necessarily get the same house in real life. When it comes to places like Bangalore that hosts most of the leading builders, it is easy to find a lot of real estate properties including villas, plots, and apartments in West Bangalore, North Bangalore, South Bangalore, and East Bangalore. With the increased demand for housing, most of the best builders in Bangalore have set up various housing projects in and around Bangalore. In the rising market that offers an array of options, choosing the best house for you is crucial and difficult. The best builders in Bengaluru are in tight competition and are constructing apartments and luxury villas all over the IT capital of India.
When it comes to a buyer, it is not just a dream home but also a huge investment. Some people choose to live away from the city while some choose to live in the city, closer to their office space. Offering a wide range of options, real estate companies offers villas and apartments in West Bengaluru, South Bengaluru, North Bengaluru, and East Bengaluru. Are you planning to buy a real estate property in Bangalore and is confused about getting one?? Given below are some of the important things you should keep in mind while signing up for your dream property in Bangalore.
Is it located conveniently?
Deciding where to live is crucial. Some choose to live in a peaceful suburb, and some choose the city. The location should cater to the needs of the buyer and the family members. There are various sites for sale in Bangalore which is located close to various hot hubs including schools, colleges, shopping malls, IT parks, metro stations, and the airport. The location should give a comfortable living space and the locality should be peaceful and safe. Apartments in West Bangalore and South Bangalore are mostly located close to the industrial regions, keeping you closer to your workspace. In the present market, various illegal constructions are happening and thus one should also make sure the apartment or villa is not constructed on rajakaluve or other illegal lands.
Is it RERA registered?
Before buying a house, the buyer should make sure that the plot, villa, or apartment they are going to buy has all the important approvals. Most of the builders have BDA and BMRDA approvals. Most of the trusted and leading real estate companies have RERA registration. Builders partnering with national banks are also trustworthy. Most apartments on Mysore road, Kanakapura road, Bannerghatta road, and other developed areas have real estate properties that are under RERA registration and other approvals.
Is it an asset?
Buying a home is a long-term investment. The buyer should make sure that the apartment, villa or plot is in a place that has high land appreciation values. In the future, the value will go high and the resale value will also increase. When you plan to move out of Bangalore, you should be able to sell the property or to generate revenue. So, when you are buying a property be it flat, apartment, villa, or villa plot it is not just a home you are buying. It is an asset that will bring you great returns in the future. If you are not selling it or renting it, it will be always your asset that will later be your vacation home or a getaway place.
Is the locale safe enough?
Most of the buyers will prioritize security. Leading apartments comes with security features like 24x 7 CCTV surveillance and guards. A secure locale also denotes a surrounding that is safely set for all. If you are moving with a family, you should make sure the surrounding is safe for the kids as well as you. A residential space that is situated in an isolated region cannot be named a safe space for a family with kids. Another thing you should look for is a surrounding that is clean and exuberant. Most of the Apartments for sale on Mysore road and various other areas are surrounded by the goodness of nature.
Who is the builder?
With the number of real estate companies increasing in the city, finding and buying from the best builders in Bangalore is important. In vast cities like Bangalore, people face a lot of fraudster issues in the real estate world. And thus, it is crucial to have an idea about the market and the players. You can do a background study on the builders to understand their standards and construction quality. Some of the builders will not handover the project on the promised date and some fail to handover all the documents on the day of the project delivery. Buying from a reputed builder is the ideal option in front of you. Renowned builders like Pride Group who have grown in Bangalore and other cities of India crafts a home that is best in construction quality with great amenities and living experience. The builder has spacious homes, including apartments on Mysore Road, Bannerghatta Road, Jigani Road, and other residential areas in Bangalore.
Does it have all the amenities?
Amenities that will compliment your living is essential when you buy a home. Look if a builder that provides the amenities that will elevate your lifestyle. Some of the apartments come with an excellent walk area, jogging track, park, swimming pool, and more. These amenities give you time to unwind and enjoy your leisure time. Living in such a space you can rejuvenate yourself.
Does it have an ideal carpet area?
Builders usually blind the buyers by touting the super area of the property, while the built area will be lower. Do not know what super area is? It includes the common facilities set for all the residents such as the lobby, elevators, stairways, and corridors. The built-up area is the area that covers the house. The built-up area includes the space taken by walls and other storage spaces. The area which the resident of the house can utilize is the carpet area. A larger carpet area means a more spacious home and a comfortable living. Most of the reputed builders with apartments for sale on Mysore road, R T Nagar, J P Nagar, Whitefield, Banashankari, and other residential areas in Bangalore have spacious houses. Now that the work from home is becoming the new normal it is better to buy a spacious home that will give you enough space for your office too.
Is the project approved?
Do proper research on the status of approvals and the permissions granted to the property. Most of the banks and agencies do it for a small amount. It is ideal to check for the banks which provide EMI for the property you are buying. If something is out of order, the plea will be rejected. The paperwork that involves the purchase of a real estate property is also a tough job and it is always ideal to hire a legal aid to help you out.
Are freebies really free?
Most of the builders in Bangalore roll out attractive offers to lure the buyers. These offers include free woodwork, appliances, and white goods. Always remember one thing. Nothing is free. You may see offers but most of the time the builders include these prices in the budget they are quoting for the property. Therefore, do not run behind offers thinking you are getting something for free. The same theory goes for all the products you buy, be it anything.
Is it affordable?
One of the things you should check while buying a property is to make sure that it is affordable. You should be able to pay the EMI and it should not become a headache for you later. You should assess the options in front of you. Know the home loan EMIs, maintenance charges, property taxes, and sundry expenses. One should make sure that all the above-stated prices should come within 30-35% of your total household income. Buying your dream home without thinking about the budget can hugely affect your critical financial goals including your children's education and saving for your retirement.
As a leading builder in India, Pride Group has built homes that are spaciously designed with contemporary style. The homes will elevate your living with an exuberant living space. An array of options, be it a villa, apartment, or plot, Pride has all the options for you. From Pride Enchanta II, spacious apartments in Vijayanagar, Bangalore to luxurious Wilasa in Off Kanakapura Road you can find your dream home at pride group easily. Pride Enchanta apartments in Vijayanagar, Bangalore has 2&3 BHK houses for the buyers. You can buy a 3 BHK home and get a spacious room exclusively for your work from home office space to celebrate the new normal.
Buy your dream home from the best builders with all the convenience that you are looking for. Make sure that you think research and buy the best home that stands close to your dream home.
Are you still thinking of what kind of property to buy in Bangalore? Here are some of the tips to buy a budget apartment in Bangalore.