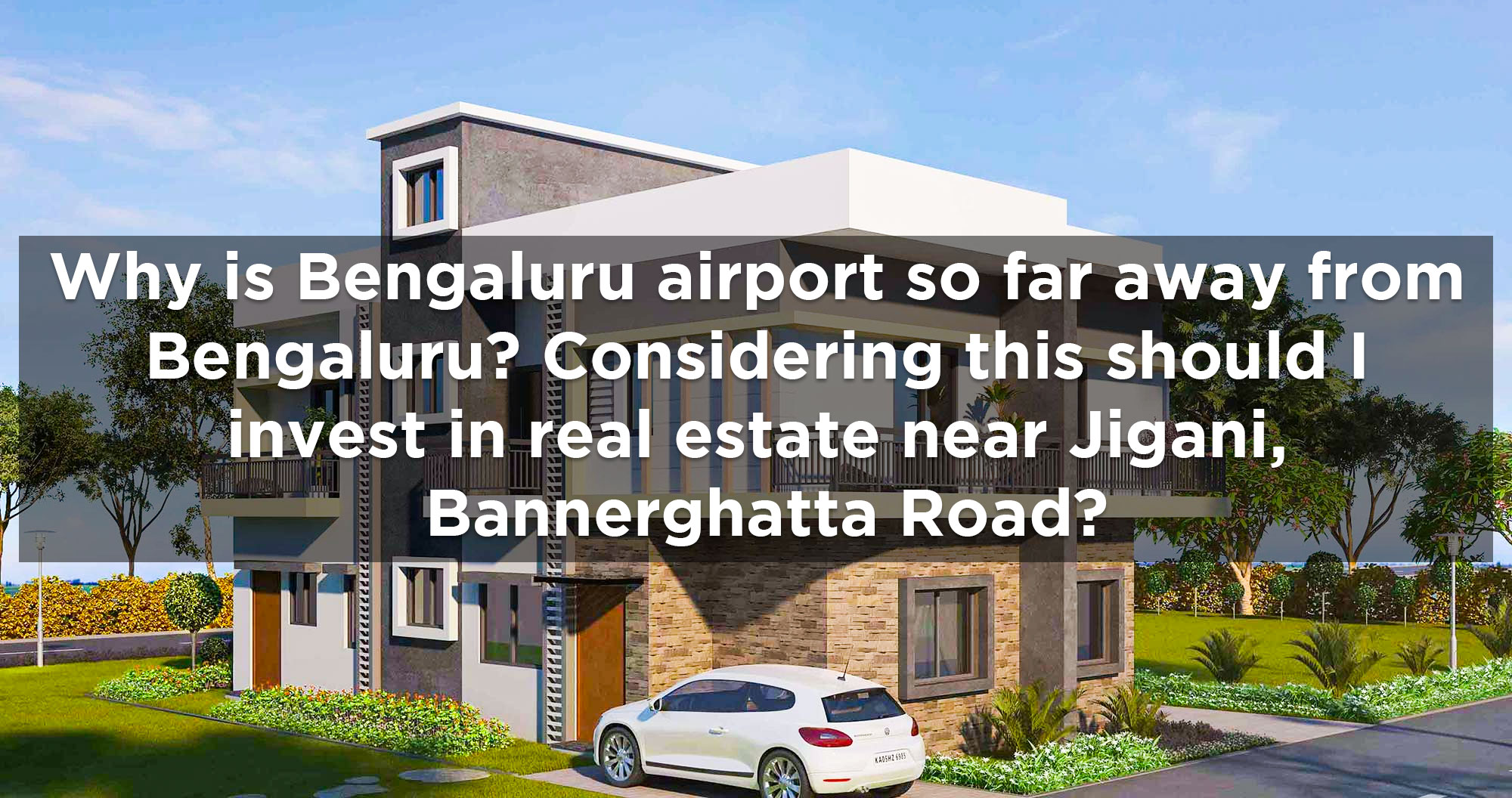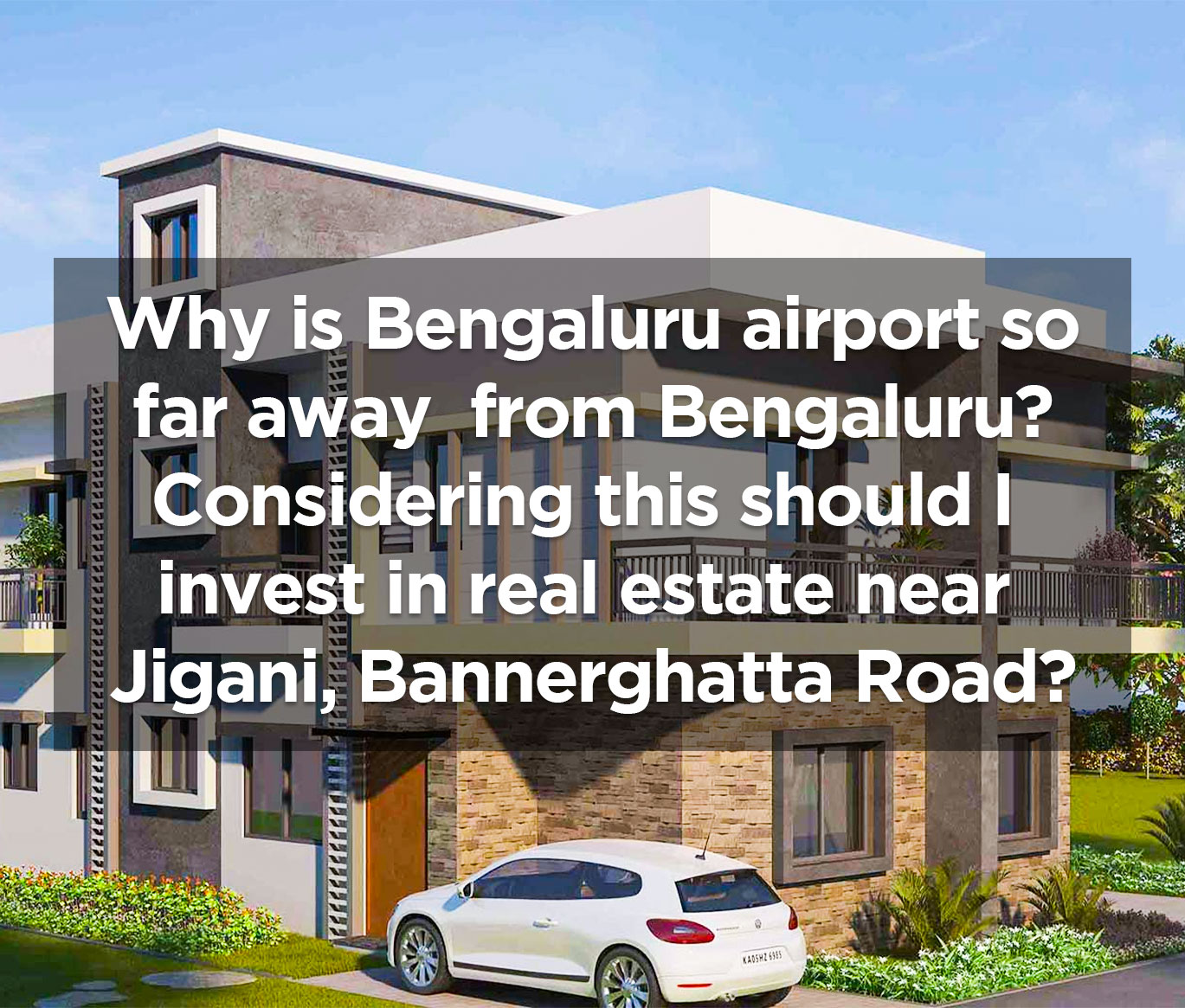 Why is Bengaluru airport so far away from Bengaluru? Considering this should I invest in real estate near Jigani, Bannerghatta Road?
If you are a person who is living in Bengaluru, employed in Bengaluru, or a native of Bengaluru, you will have one question in your mind. 'Why is Bengaluru Airport so far from Bengaluru? Even when Bengaluru is one of the busiest cities, the main transit point is away from the main town. But does it affect our transport plans? The main reason behind this is the great connectivity. And if we look at it, the main reason why people travel to Bengaluru is for a career. With industrial regions like Electronic City and Whitefield offering great job opportunities, people prefer to live closer to their work. And thus, most of the people flying into Bengaluru look for residential projects like 2 BHK apartments in Bannerghatta road, villas in electronic city, plots near Jigani, and more.
If you are a person who is moving into Bengaluru, here are some of the reasons why you should prefer a home away from the airport.
Location advantage: Living closer to the airport is highly beneficial for you if you are a constant flier. And if you are not one, it is ideal to live closer to where you travel the most. If we ask anyone, a few of the locations of priority will be workplaces, schools, shopping malls, hospitals, and the like. Buying apartments in Bannerghatta road will be the best option for people who work in Electronic city. And as one of the most industrialized regions, Electronic City has numerous residential projects that offer flats, villas, and villa plots for sale in Bannerghatta road which is in close proximity to Electronic City.
Closer to the city: The Bengaluru Airport is located far from the city and thus, it is considered one of the suburbs of Bengaluru. Even though the region is developed with residential areas and various other essentials for living, the fact that you live outside the city remains. In the city, you are at a hand's reach from new retail outlets, malls, hotels, schools, entertainment zones, and restaurants. This paves the way to a quality neighborhood.
Overpriced properties: One of the main reasons for you to choose a home away from Bengaluru Airport is the residential areas and the land that comes at a huge price near the airport. Most of the people who are employed will look for budget-friendly homes. And with premium projects rising around the airport, it will also be price tagged a great sum. And most of the projects in these regions come with maintenance fees.
A potential threat to health: Living closer to an airport means living closer to the loud aircraft noises. Most of us do not know that the long-term exposure to aircraft noise may have direct or indirect effects on the health of the population living closer to it. There are reports that state that aircraft noise can cause heart problems, loud noise can lead to a short-term rise in blood pressure, and that the continuous exposure to such noise could lead to a more alarming risk such as imbalanced sleep and heart disease. Living in a villa on Bannerghatta road, you need not worry about such issues to entail you.
It is ok to live far from the airport
From experiencing city life to plenty of other reasons, you can opt to live away from the airport. And your once in while travel to the airport from your apartment near Bannerghatta road is made easier with the best in transport facilities in Bengaluru city. You can either choose buses, private cars, or other public cab services like Uber, Ola, and the like. The city is well connected to the International airport with great roads. So, if you are living in BMRDA approved layouts in Jigani, all you must do to reach the airport is take a bus. Make sure that you leave early enough to catch your flight.
One of the renowned real estate developers in Bengaluru, Pride Group comes with great properties for sale in Bangalore. With the aim to provide you a great living space that will complement your life and elevate your lifestyle, Pride Group has a wide range of residential options laid across for the public. The 20-year long experience in the real estate market has helped the builder to set a standard for the best living space. The bold contemporary designs, eye to detail, excellent engineering values, and uncompromised focus on ethics make the real estate developer stand out from the rest. A living of your dreams in any part of Bangalore can be made true with Pride Sunrise, Pride Enchanta II, Pride Crosswind villas situated in various parts of Bangalore. Invest in a premium plot by Pride at Pride Meadows, Pride Crosswind villa plots, and experience the joy of owning your land.
Pride Group has premium 2 BHK flats for sale in Bannerghatta road, Bangalore which will keep one closer to the industrial regions of Electronic city. Most of the projects by Pride Group are located in great localities that provide excellent transport facilities. Villas in Electronic City by the leading developer is not only well versed in connectivity but also best amenities. The Pride properties are nestled in fine locations with top-notch amenities inkling jogging trails, parks for children, swimming pools, cafes, and more. One can enjoy a fine living at any of the Pride homes.
If you are a person who moved into Bengaluru and is planning to settle in the city, buy a brand-new home that assures your well-being. Buy the most convenient housing that adds to all your needs. There are various apartments for sale in Bangalore which can host your dream home. It is always better to buy from a trusted builder. That way, one can dwell with a peaceful mind in their dream home. Do proper research before you buy your dream home.