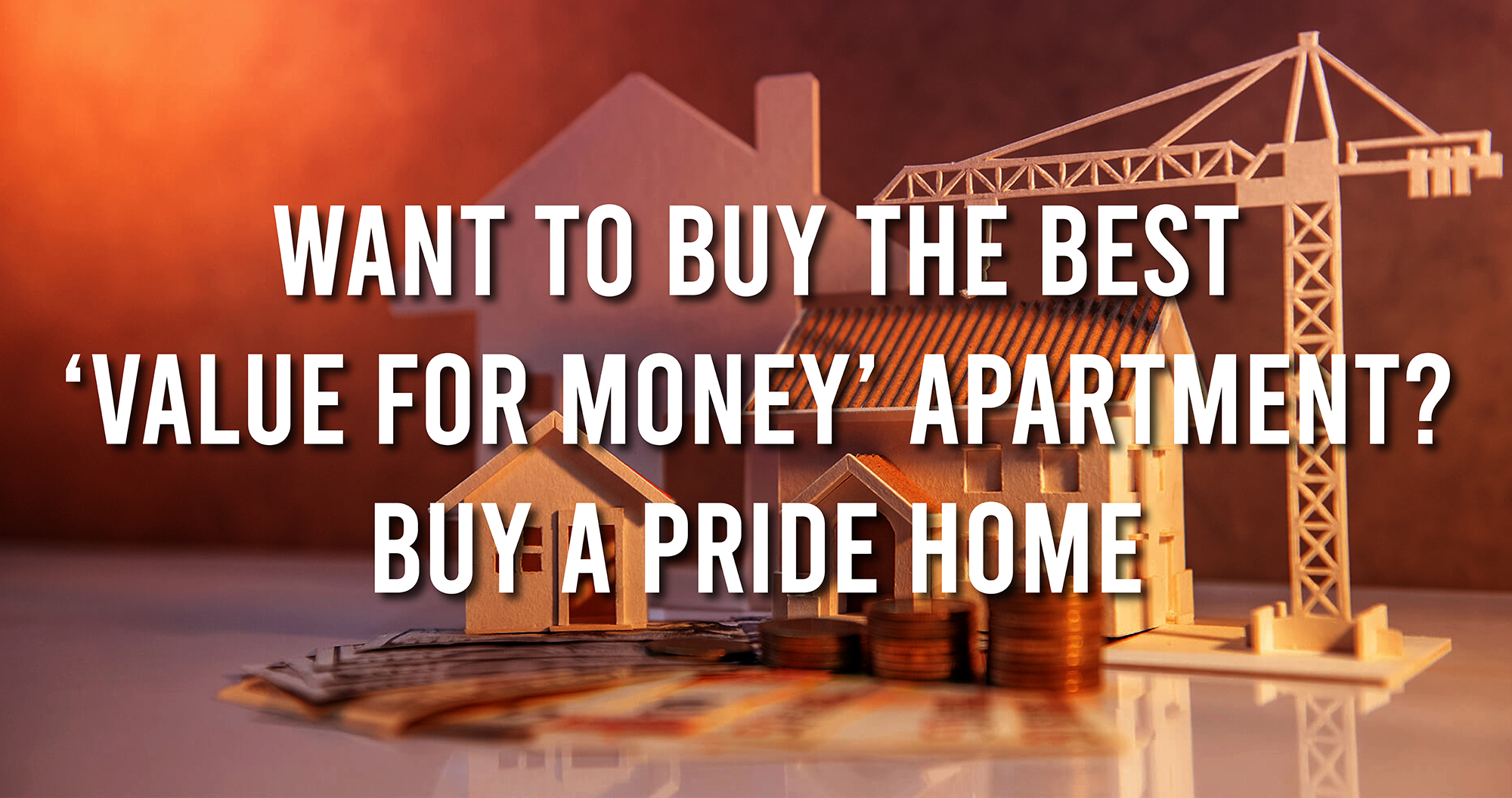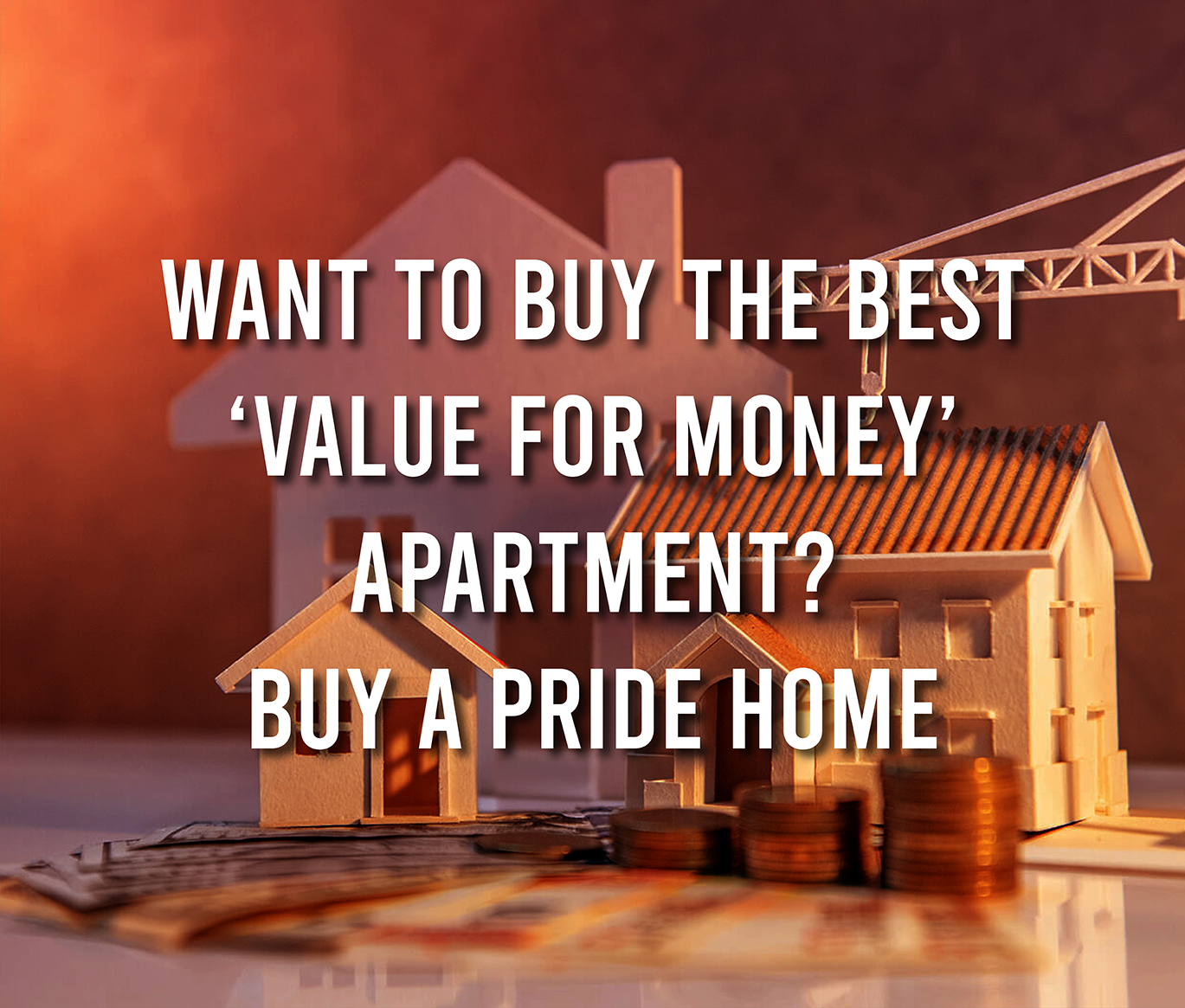 Want to Buy the Best 'Value for Money' Apartment? Buy a Pride Home
Entering your new home is a moment of joy and fulfillment. However, the process to get there involves careful research and planning in reviewing numerous options before narrowing down on your choice. The main reason is that your home is also an investment which will grow and reward you with appreciation in the future. At Pride Group we understand the value of 'Return on Investment'. Here are a few reasons why a Pride home gives you the best value for your money:
Quality Homes
A beautiful home begins with the way it has been crafted. At Pride Group great care is taken to ensure that the structure is solid, the design is inspired and the technology used is the best industry-standard. Our acknowledged excellence in construction, development, design and safety ensures you live in the best, safest and most secure home around. Pride homes deliver on your expectations and uphold our reputation.
Advantageous Locations
Pride residential projects are notable for being located in sought-after locations. Careful thought goes into choosing the location of a Pride project to ensure that your new home is close to arterial roads, railway and metro stations. and the airport, or located in or near major IT corridors. Choosing the right location also takes into consideration its future potential for development and value appreciation. Thus, a Pride home gives you benefits of connectivity and proximity to major social amenities so that you spend less time in transit and more time doing what you love - work, play or relax with family.
Community Life
Pride residential projects are designed as sprawling communities with a lot of open and green spaces. The lifestyle amenities too encourage community activity, interactions and celebrations. Most families today choose homes in gated communities so that their children can have similar company while their senior parents can enjoy active social lives within a safe and secure environment. Pride homes in Bangalore and Pune offer all this and more.
Lifestyle Amenities
Every Pride project boasts a range of the best lifestyle amenities designed to suit members of all ages and interests. These include jogging track, amphitheater, clubhouse, swimming pool, kids play area, badminton court and much more. There is something for everyone whether they like to swim, play a game of tennis, enjoy a relaxing walk or meet neighbours. Enjoy more 'Me-time' at your Pride home which will help you relax, recharge, and refocus on your life goals.
Natural Surroundings
Pride residential projects are designed around the location's natural surroundings. Most of the elements such as trees, water bodies and shrubbery are incorporated in the project's layout, while amenities such as gardens, jogging paths and more are designed around them. As a result, you can enjoy picturesque views of nearby hills, pristine water bodies and lively flora and fauna while breathing cleaner and cooler air.
Pride Group Legacy
Pride Group is distinguished in the real estate industry for our commitment to delivering superlative homes beyond expectations. Many of our projects have been awarded prestigious awards which acknowledge our commitment to excellence. Pride residential projects are a masterful blend of stunning aesthetics, and beautiful, natural surroundings. This is a result of adopting the latest cutting edge technology and the skills of the finest design minds to deliver beautiful homes that will become your legacy.
Finally…
We can suggest many more reasons why you get the most value for your money when you buy a Pride home. But we recommend you experience it for yourself. Come, visit any of our projects and become a member of the vast, happy Pride family.