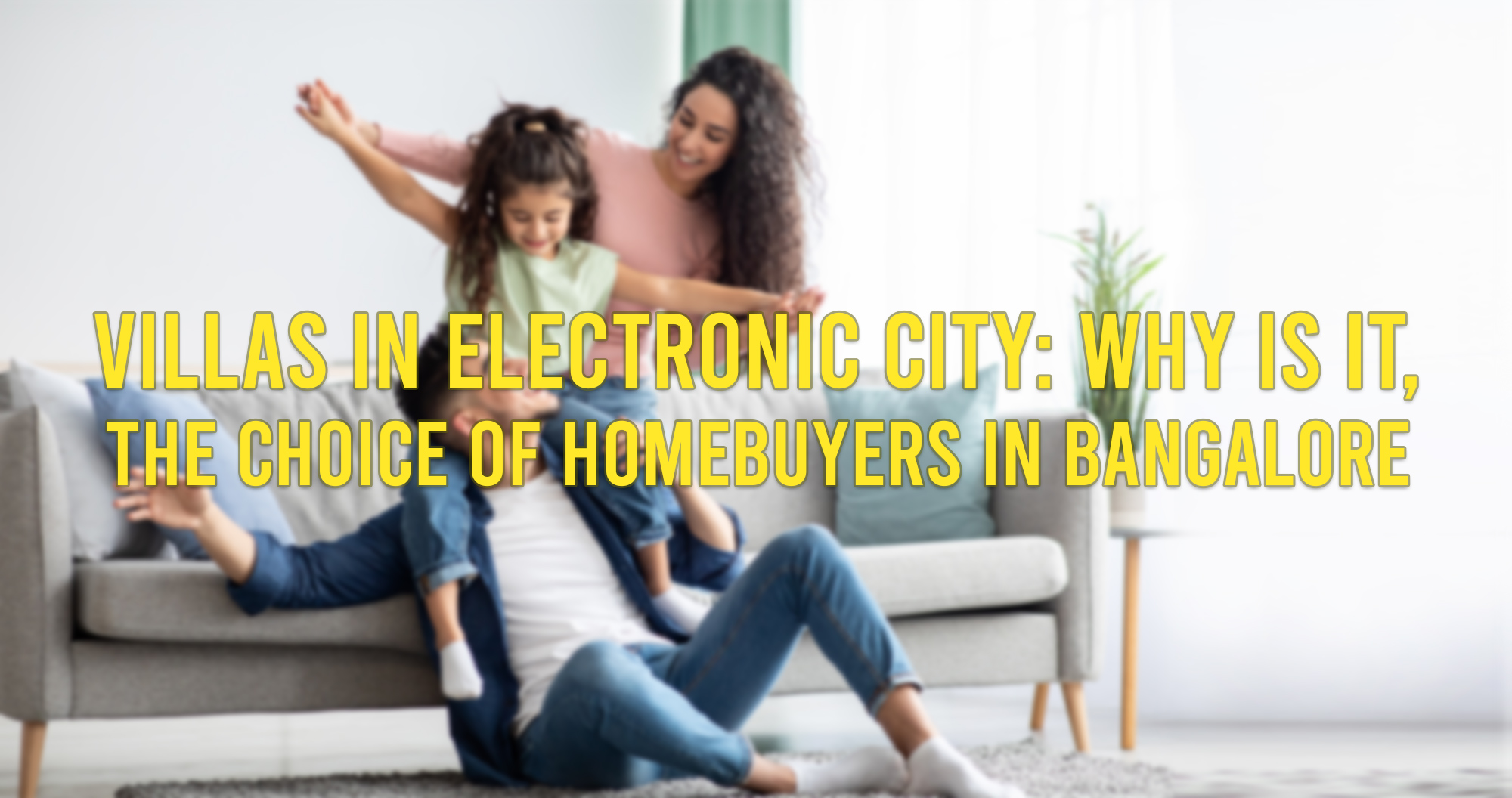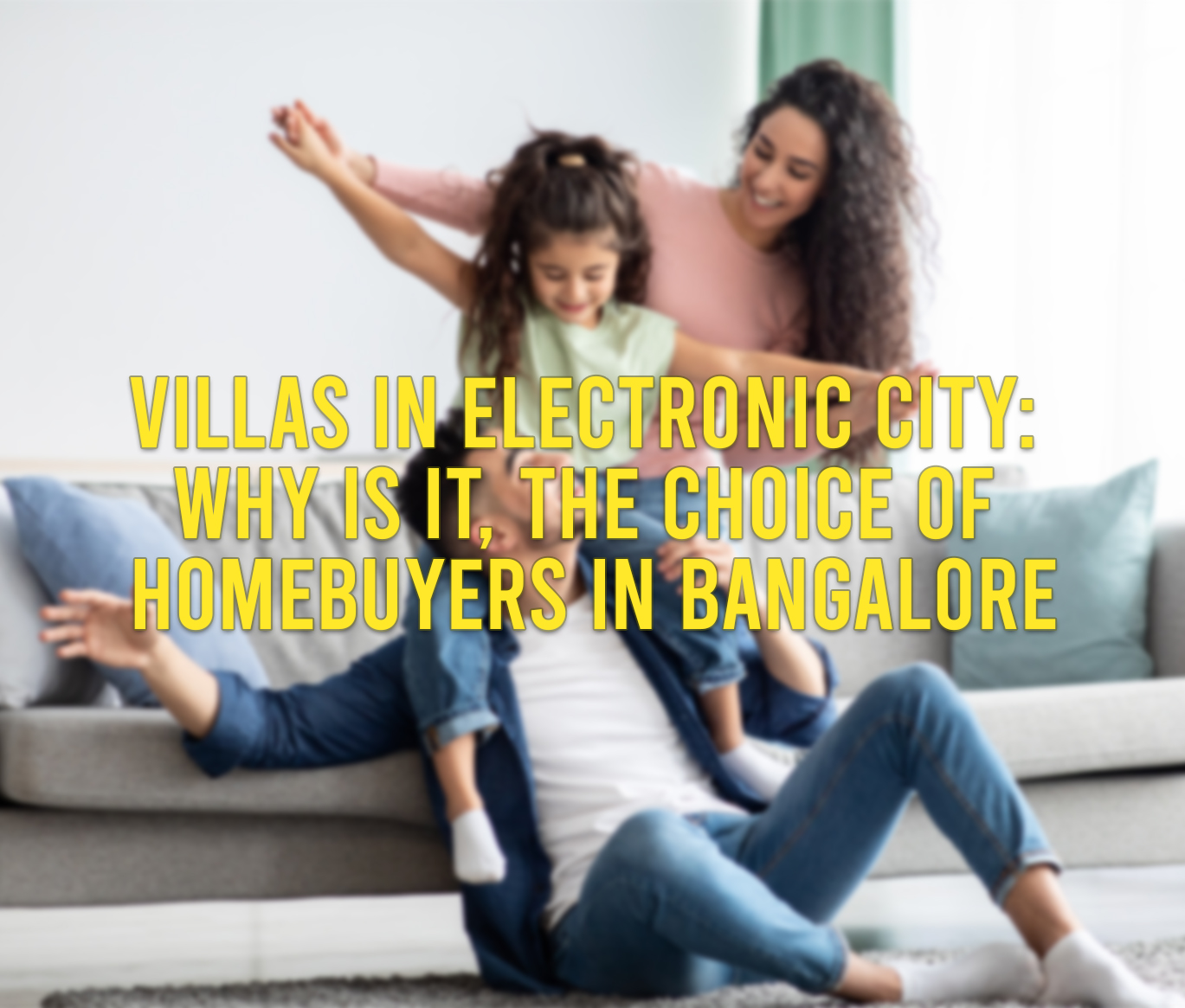 Villas in Electronic City: why is it, the choice of Homebuyers in Bangalore
Bangalore is a city that welcomed developments with open hands. The city emerged out to be the IT hub of India as numerous tech companies invested in Bangalore. A boom in the real estate industry followed as many moved to Bangalore to explore job opportunities. As the demands for housing increased, industrial regions like Electronic City, Whitefield, and the like made their way to the list of top residential spots in Bangalore. Renowned builders like Pride Group have apartments in Electronic City and various other parts of Bangalore.
Among other industrial areas, Electronic City has become one of the most opted residential spots in Bangalore. And the features that drive the buyers towards Electronic City are numerous. Apart from being the tech spot, Electronic City has shown tremendous growth in various other sectors in recent times. Investing in property in Electronic City is a saving for the future. If you are planning to buy that luxurious villa for sale in Electronic City, you are doing the right thing. Here are some of the things that will help you stay rooted in your decision.
Stay closer to the key parts of the city
With your home located in Electronic City, you will have a plethora of location-specific advantages as it comes with great connectivity to the rest of the city. The Silk Board Junction in the locality will connect you to important areas like Koramangala, Madiwala, Indira Nagar, and Whitefield, among others. Pride Group Green Meadows villas situated in Off Bannerghatta Road will make a great location for your home if you want to stay closer to the city. Bannerghatta Road and NICE Road are two of the main roadways for commuting. If you or your family members take public transport regularly, the BMTC buses will always be at your service.
High-end residential properties
Investing in a real estate property in Electronic City, you will have an array of options to choose from. Foreseeing the potential of the region, prominent builders have launched and continue to launch their projects in Electronic City. Bangalore's leading residential companies have their top-notch villas and apartments featuring urban amenities located in the region. Pride Group's Vatika Villas is one of the most alluring villas in the locality. Homes that will raise your living standards are what you will find in Electronic City.
Better returns on Investment
The first home will have an emotional connection to you, at the same time, it still is a form of investment. Therefore, it is important that you make the right choice. While buying a property in Electronic City you need not doubt the future returns the property is going to bring you. The rising land appreciation and the developments seen in the region ensure a higher return on the amount you spend while buying a property.
And thanks to the several MNCs located in the vicinity, it will not be hard for you to find tenants here when you choose to leave the place. The apartment or villa can be rented out and can help you earn a steady income through rent. This leading IT Hub also has high rental demand. If the property is sold to another buyer it will also earn you a ransom. The bottom line is that you can invest your hard-earned money in properties in Electronic City and can reap great returns.
Closer to office
Living closer to the office space is a dream for everyone. Investing in a property near Electronic City, you will stay close to the leading office spaces. Top tech companies like TCS, HCL Technologies, Siemens, Intel, and others have their offices in Electronic City. The locality has also seen a thriving community of start-ups and small-scale ventures. By buying an apartment in Bangalore's Electronic city, you will be living close to career opportunities.
Educational hub
Apart from being the perfect location with IT facilities offering career opportunities, it will also make a great option for families. Moving with a family, one of the important things you look for in a locality is if it has great schools where you can send your kids to. Leading primary educational institutions including VIBGYOR High School, Treamis World School, and Ebenezer International School. For higher education, institutes such as Aziz Premji University, Xavier's Institute of Management and Entrepreneurship (XIME), and many more are also situated in Electronic City.
The bottom line is that investing in real estate in Electronic City is ideal as it provides you with a plethora of benefits. But finding the right house for you is a hectic task. Pride Group is one of the renowned real estate developers in Bangalore. The builder has rolled out great properties for sale in Electronic City. Apart from the location advantage, these Pride homes offer the best living space that will improve your lifestyle. Their villas and apartments feature bold contemporary designs, eye to detail, excellent engineering values, and construction quality. With over 20 years of experience in the real estate industry, Pride Group has arisen to be one of the leading builders in Bangalore. Pride projects in Electronic City comprise luxurious and smart homes that will elevate the lifestyle. Pride Sunrise, Pride Vatika, Pride Crosswind villas, Pride Green Meadow villas, and other residential sites in Electronic City will make a home of convenience for anyone employed in the IT hub. Invest in a premium plot by Pride at Pride Meadows, Pride Crosswind villa plots, and experience the joy of owning your land.
There are Pride Group's 1 BHK and 2 BHK flats for sale in Bannerghatta Road, Bangalore which is closer to Electronic City. Many of the Pride Group projects are located where connectivity comes to the favor of the residents. Apart from connectivity, Pride villas in Electronic City also feature the best amenities that one can offer. The mindfully located properties are designed with world-class amenities including jogging trails, gymnasium, multipurpose play court, clubhouse, children's park, swimming pools, cafes, party lawn, amphitheater, and more.
If you are employed in Electronic City and are planning to buy a new home that assures your well-being, make sure you buy from the best. Check out some of the leading projects like Pride Green Meadows, Pride Crosswind villa, Pride Vatika, and others, situated in Electronic City's Off Bannerghatta Road. Eager to learn about the things after you buy a home? Check out the smart homes by Pride Group and learn some smart hacks to make your living better.