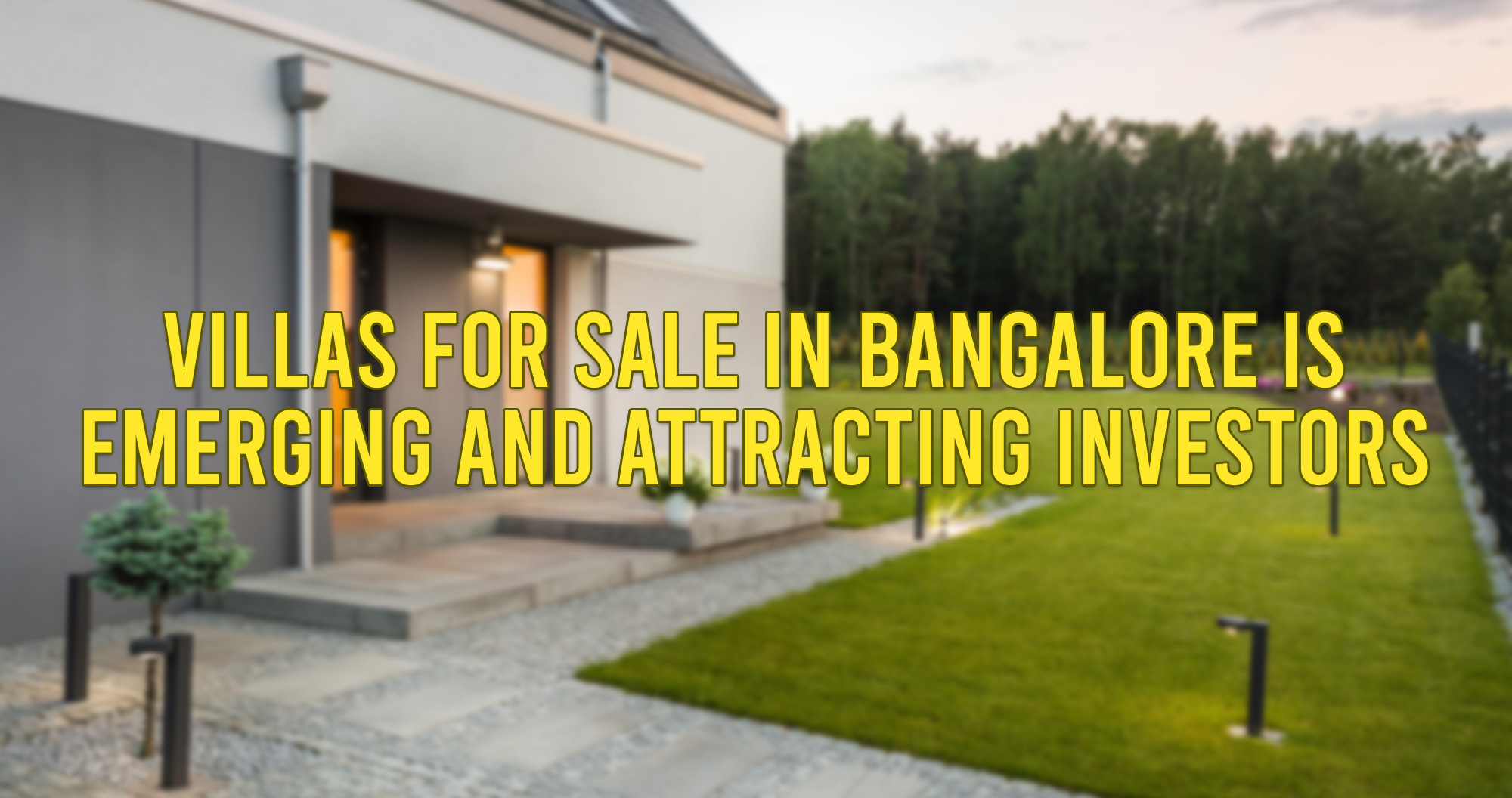 Villas For Sale in Bangalore is Emerging and Attracting Investors
Are you of the opinion that luxury and safety should be the utmost feature your dream home should have? Well, you are not alone. Since the pandemic, there was a notable shift in the home-buying behavior throughout India, especially in Bangalore. The past two years have seen a rise in demand for villas in Bangalore.
As the IT capital of India went on a shutdown obliging to the rules of Covid 19 protocols, it came as an eye-opener for those who compromised on their dream home. With partners working from home, the demand for spacious and private homes increased. The reduced price on villas and the lower home loan rates were the cherry on the cake. The challenging time came as a boon to the real estate industry. Real Estate companies like Pride Group offer homes of different types including villas, villa plots, and apartments in Bangalore.
Why Villas?
There are numerous reasons why you should opt for villas for sale in Bangalore. Read further and affirm your thoughts on villas.
Sign up for better returns
Villas in Bangalore South and other parts of the city have seen an increase in the appreciation rate. The resale values of the luxurious villas are always on the sunny side. If you are not planning to resell the villa, they can also come in handy as a great source of investment and promise a decent rental income if you find suitable tenants.
Did you buy your villa as a source of investment and are not planning to move in? Then you can rent it for a decent amount as monthly returns which will come as extra earnings. Based on the location and the market value in the region, you might earn more than what you have invested.
Enjoy uninterrupted office calls
One of the main reasons behind the rising demand for villas in Electronic City and other parts of Bangalore is the change in the work culture. With many major companies giving green signals to work from home, many families with working partners encountered the need for a private workspace.
Working from home in a villa, enjoy a private workspace where your online meetings will not be interrupted by the noisy neighbor sharing walls with you, and nor will your toddler's tantrum be audible to your colleagues.
Immerse yourself in nature
Most of the villas in Bommasandra and other parts of Bangalore come with abundant green spaces. Living in a villa like this, you get to enjoy a serene landscape where you have both privacy and time with nature. Villas promise you a lifestyle where you can witness your kids growing with nature by enjoying their time in the lavish green space. Having your own green garden helps you refresh your mind. Imagine living close to nature, breathing fresh air. It not only fills your life with positivity but also benefits your mental and physical health
Live in a sociable community
Opting for a premium villa by a leading builder like Pride Group, you can be ensuring a life in a great society. You will be able to interact with the elite group who will have similar interests as you do. This makes it easier to socialize and get along with each other. A friendly relationship with your neighbor will benefit you in hard times.
Finding an ideal living space is a challenge until you know what you need. In the present scenario, there are certain needs like privacy, security, space, comfort, etc are prioritized which have surged demand on villas in Electronic City and other parts of the city. Find a home, that enhances your living by giving you, the home of your dreams.