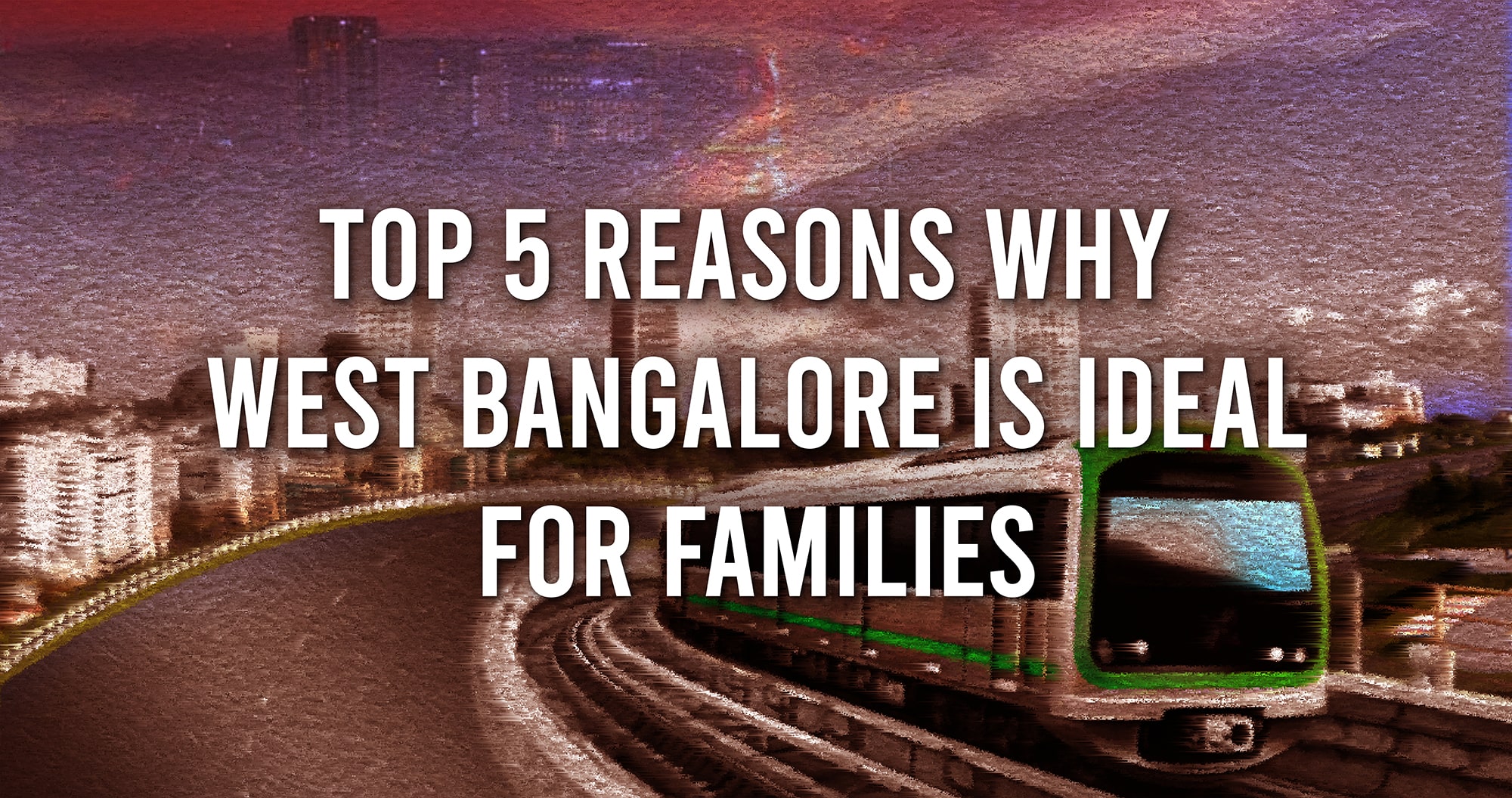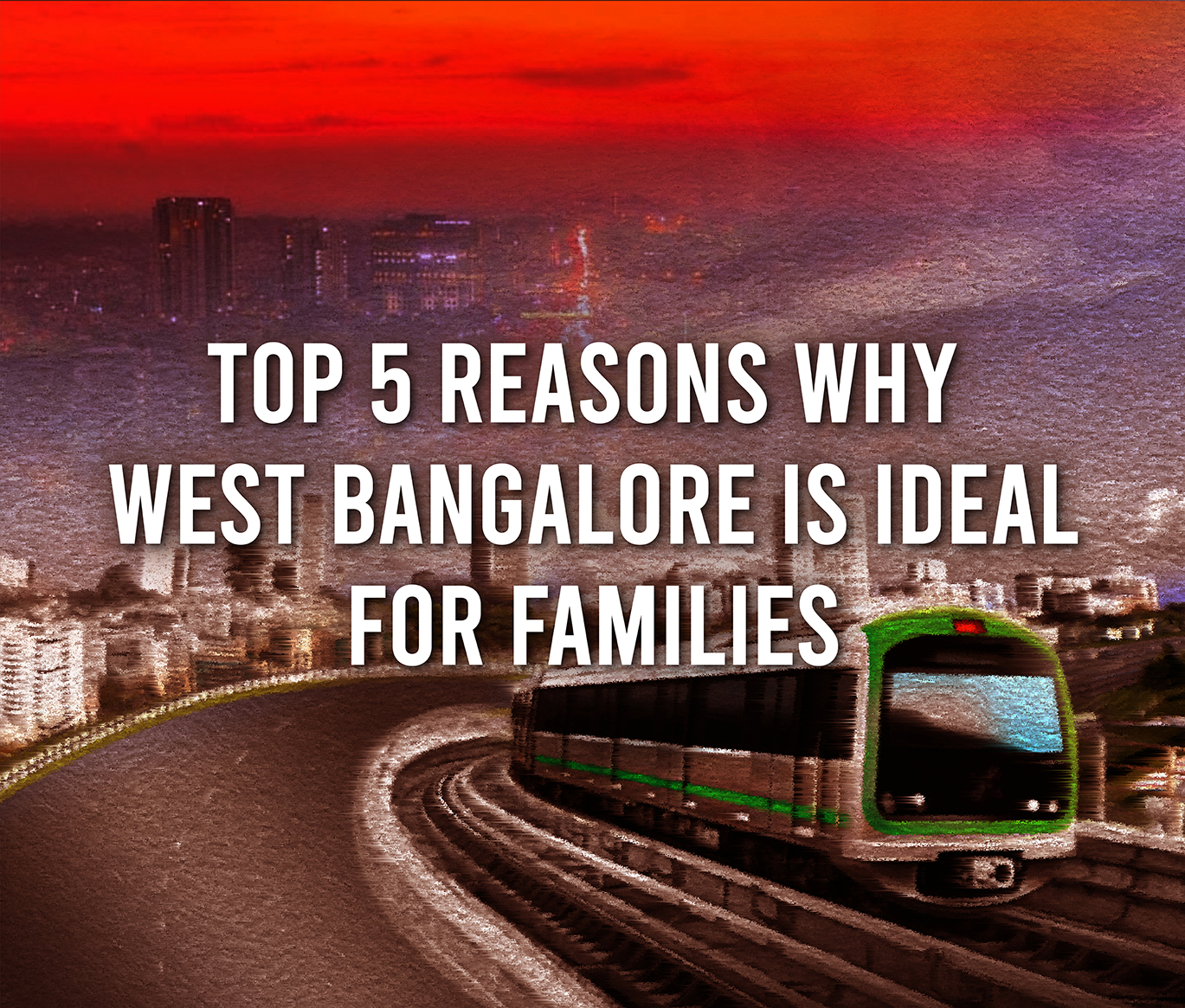 Top 5 Reasons Why West Bangalore is Ideal for Families
Infrastructure development always boosts the value of the benefitting neighbourhood just as it enhances the quality of life in that place. The well-planned development of the Outer Ring Road and Namma Metro Lines as well as IT Parks and industrial zones has brought a tremendous rise in the fortunes of West Bangalore which consists of Mysore Road, Tumkur Road, Kengeri, Doddabele and more. In particular, Tumkur Road has transformed from a road connecting various villages to a major route which connects bigger arterial roads and highways. As a result, West Bangalore has become a sought-after destination for residential as well as commercial development. Let's take a look at the main driving factors of this phenomenon.
Excellent Connectivity
West Bangalore is connected by a network of excellent roads including Tumkur Road, NICE Ring Road, Magadi Road and part of Bellary Road. These roads connect the region to South Bangalore, East Bangalore's Electronic City, the central business district (CBD) as well as the airport in the north. The Namma Metro's Green Line runs along Tumkur Road from Central Bangalore and thus offers direct connectivity to the CBD. It also connects with Majestic, the main hub of transportation, and the Purple Line which runs from east to west. As a result of this web of widespread connectivity, residents of West Bangalore can get around the city fairly easily. The expected completion of the Nelamangala-Baiyappanahalli suburban railway corridor by 2025 will further boost connectivity.
Employment Hubs
The main attraction of a sought-after residential location is its proximity and connectivity to work hubs. The less time one spends commuting to one's workplace, more time is available for the family. Tumkur Road is home to two prominent industrial hubs which employ thousands of professionals. Companies such as DENSO Kirloskar Industries Pvt. Ltd., ISRO data center, Exide Industries, Volvo, Hitachi and Mysore Electrical Industries Limited operate in Peenya Industrial hub. Similarly, the recent growth of the Dabaspet industrial area has given rise to many small-scale industries and companies such as Jindal Aluminium, TD Power, LM Wind Power and more.
Social Amenities
West Bangalore offers a well-developed ecosystem of social and civic amenities which are attractive for young families. This includes reputed educational institutions such as Millenium School, St. Philomena's Public School, Ramaiah Medical College, Shri Pillappa College of Engineering, Acharya Institute of Technology and many more. Similarly, quality medical care can be accessed at prominent hospitals such as Omega Speciality Hospital, MS Ramaiah Sagar Hospital, Usaha Hospital and Raksha Multispeciality Hospital in the vicinity. For shopping and retail needs there are numerous options such as Yeshwantpur Market, Rockline Mall, IKEA and Orion Mall within driving distance. Viewed all together, these factors enable one to live a life of comfort and convenience, and have further boosted the demand for residential projects in West Bangalore.
Residential Ecosystem
As we've seen earlier, West Bangalore is a hub of activity thanks to its vibrant community life. The widespread network of connectivity, quality of social and civic amenities as well as the proximity of workplaces has given rise to a thriving real estate micro market. It is no wonder then that many other prominent names in real estate have developed sprawling residential communities in West Bangalore. With so many people and young families calling it home, West Bangalore certainly is a desirable residential destination.
Planned infra developments
West Bangalore's existing attraction will benefit immensely from a number of planned infrastructure developments. The much-anticipated Peripheral Ring Road (PRR) will connect Tumkur Road to major roads such as Sarjapur, Old Madras Road and Bellary Road as well as Whitefield, Hoskote and the Kempegowda airport. Once completed, PRR will not only enhance quality of connectivity but also boost real estate value. Other eagerly awaited developments include the BBMP plan to construct a signal-free corridor with six flyovers and underpasses including one at Tumkur Road, thus enhancing the region's connectivity.
To Conclude…
West Bangalore is continuously developing and its real estate attraction and value is set to increase further as more developments come up here. West Bangalore location's good connectivity and desirable social life continue to draw more families to its many residential communities. No matter why you choose West Bangalore, rest assured that your life here will be engaging, immersive, active and rewarding, and your investment will reap rewards in the future.