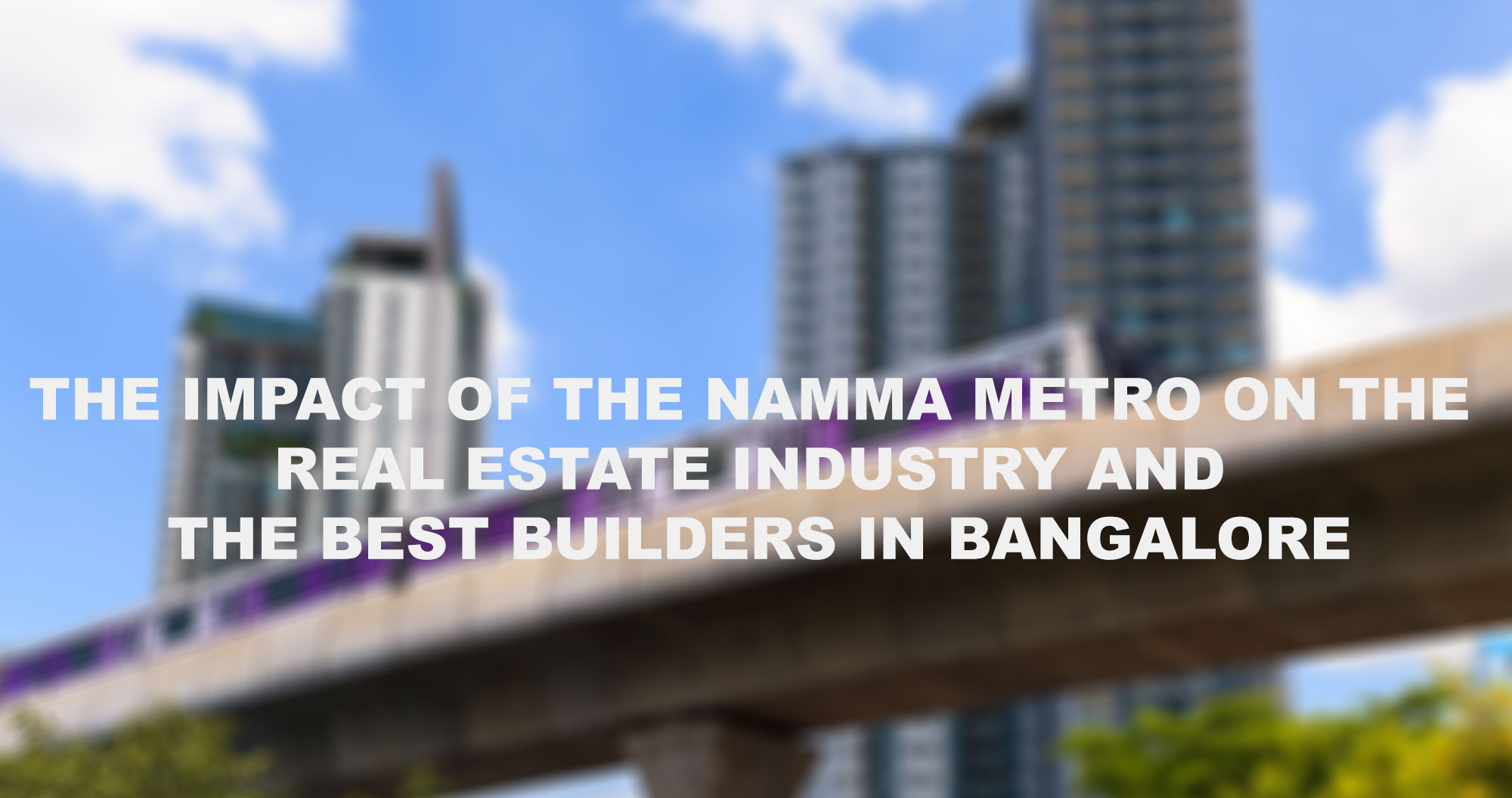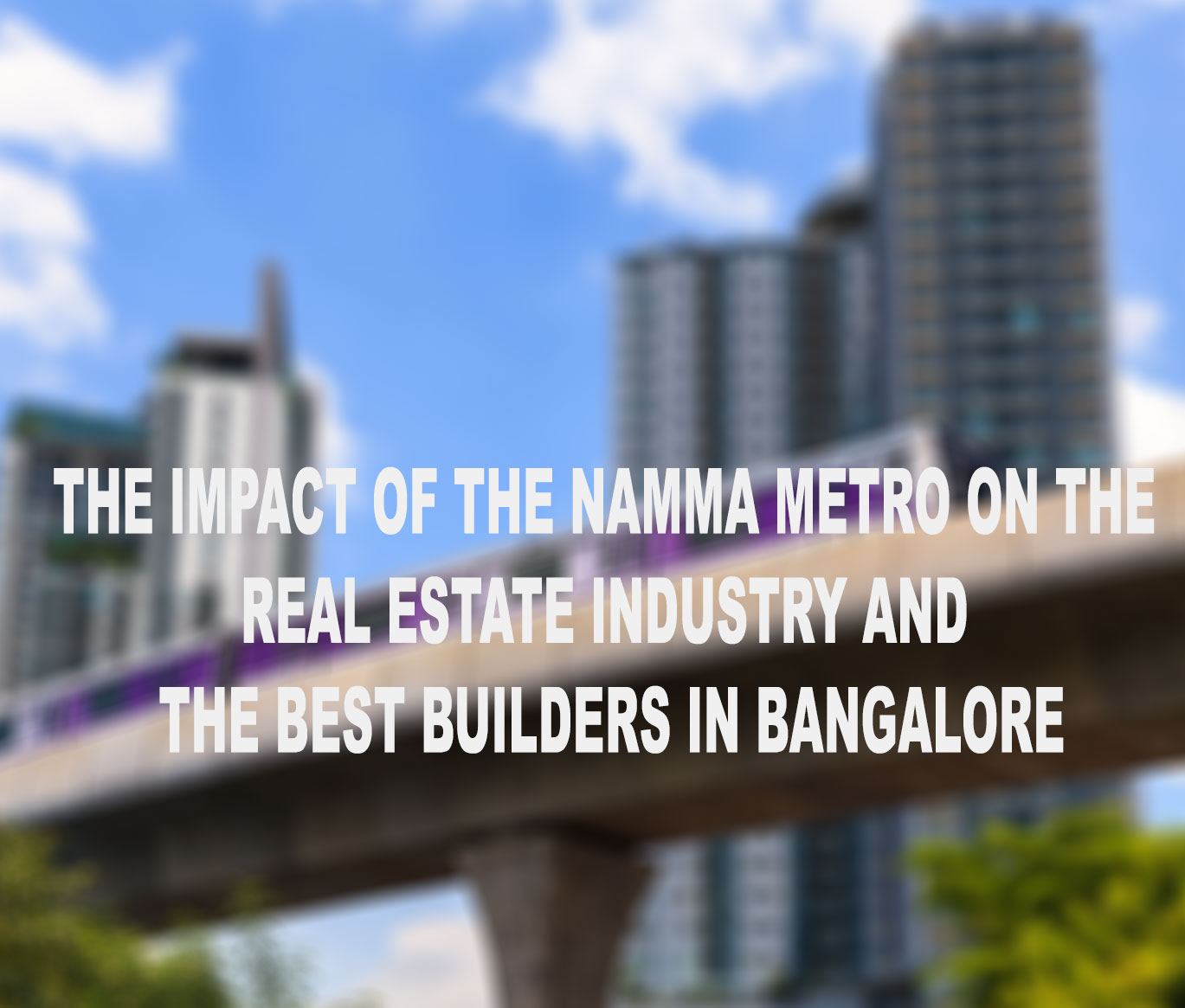 The Impact of the Namma Metro on the Real Estate Industry and the best Builders in Bangalore
The Bangalore Metro also known as Namma Metro has revolutionized the transport infrastructure of the busy metropolis. Millions of people use the Bangalore Metro as a quick and convenient method of transit every day. Apart from relieving traffic congestion in the city, the metro has had a substantial impact on the real estate industry, mainly its prices and demand in and around its lines.
Since the Bangalore Metro system started operating, real estate costs in the districts it connects have increased significantly. According to a JLL India survey, houses that are less than a 10-minute walk from a Metro station might fetch up to 30% more than those farther from the station. This is because the Metro makes these regions more convenient and accessible, increasing their appeal for both residential and business uses.
Bangalore Metro's effects on real estate values can be observed in well-connected locations like MG Road, Indiranagar, and Jayanagar. Property values in some places have increased significantly over time, sometimes doubling or even tripling. Also let us not forget, these are some of the most happening locales in the city.
Let us dive deep into how Namma Metro is acting as a catalyst for the real estate industry and making business a bit easy for the best builders in Bangalore.
Increased demand for residential properties in Bangalore
One of the most significant impacts of the Bangalore Metro on the real estate sector has been the increased demand for properties located near metro stations. The metro has made travel faster and more convenient, making it a preferred mode of transport for many people. This has led to a surge in demand for properties near metro stations, including apartments, villas, and plots. Best Builders in Bangalore are also capitalizing on this trend by targeting developed as well as upcoming metro stations to build new properties, such as ready-to-occupy villas in Bangalore South, apartments in South Bangalore, and villas on Bannerghatta Road.
Rise in real estate prices
Real estate costs in these areas have soared as a result of the increasing demand for homes close to metro stations. As more and more people prefer to purchase homes close to metro stations, the demand has outpaced the supply, driving up the cost of real estate. In places where the metro is undergoing construction at a fast pace, including Bannerghatta Road, Jigani, Whitefield, and Bangalore South, this trend is especially obvious. For instance, due mostly to their proximity to upcoming metro stations, villas in Bangalore South are currently more expensive than they were a few years ago.
Boost in demand for residential plots in Bangalore
The increase in demand for plots is one effect of the Bangalore Metro on the real estate market. Several people are trying to purchase residential plots in Bangalore and construct their homes as a result of the increase in real estate costs. Due to their proximity to metro stations and ease of access to other parts of the city, plots in Bangalore South, plots near Jigani, and gated community plots on Bannerghatta Road are particularly sought-after. In addition, a lot of developers are now profiting from the rise in demand by selling residential plots close to metros.
Boost for builders
Ultimately, Namma Metro has given the best builders in Bangalore a huge lift. Due to the increased demand for homes close to metro stations, several builders are increasingly making investments in these regions and building new homes. Due to the growing competition among builders, purchasers now have more options, which ultimately benefits them. Currently, some of the best builders in Bangalore are creating homes close to metro stations, including apartments on Bannerghatta Road and villas in Jigani.
Upcoming Metro Stations in Bangalore
Future real estate prices and demand are anticipated to continue to be impacted by the Bangalore Metro. More prospects for real estate development and investment will arise as the Metro extends to new regions and routes. In the upcoming years, the Metro is anticipated to have a substantial impact on housing demand and prices in places like Whitefield, Electronic City, Bannerghatta Road, and the airport corridor.
One of the best builders in Bangalore, Pride Group, has various residential properties and residential plots in Bangalore. And the residential plots for sale in Bangalore South like, the Pride Crosswinds Villas are located in proximity to the upcoming metro stations. Together with its other features, the close transit to the metro comes as a cherry on the cake. Apart from residential plots, Pride Group has premium villas on Bannerghatta Road and villas in Jigani that are also close to the airport.
If you are a person who is looking for plots, apartments, or villas in Bangalore South, all you need to do is check out the best Pride Homes.