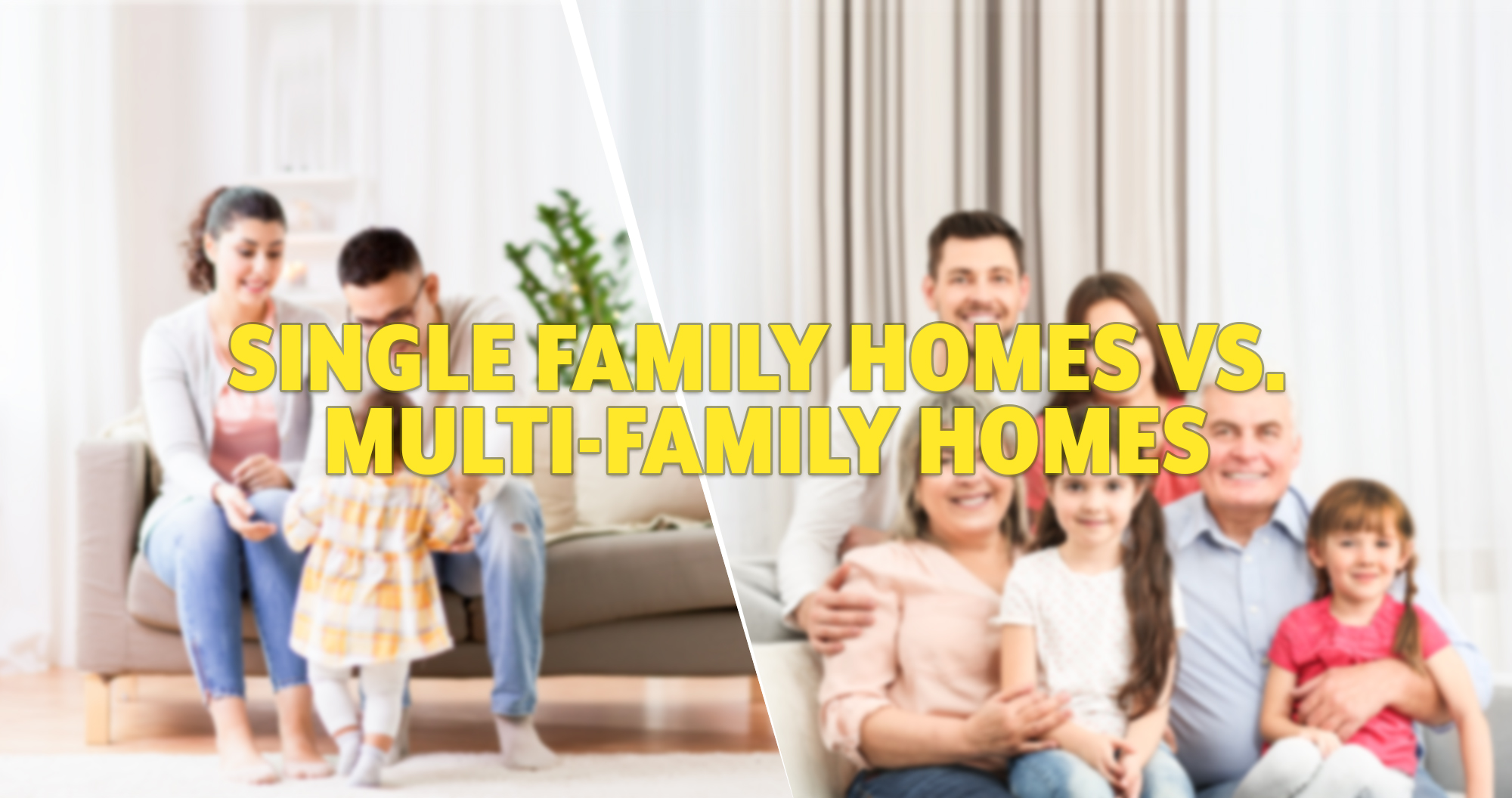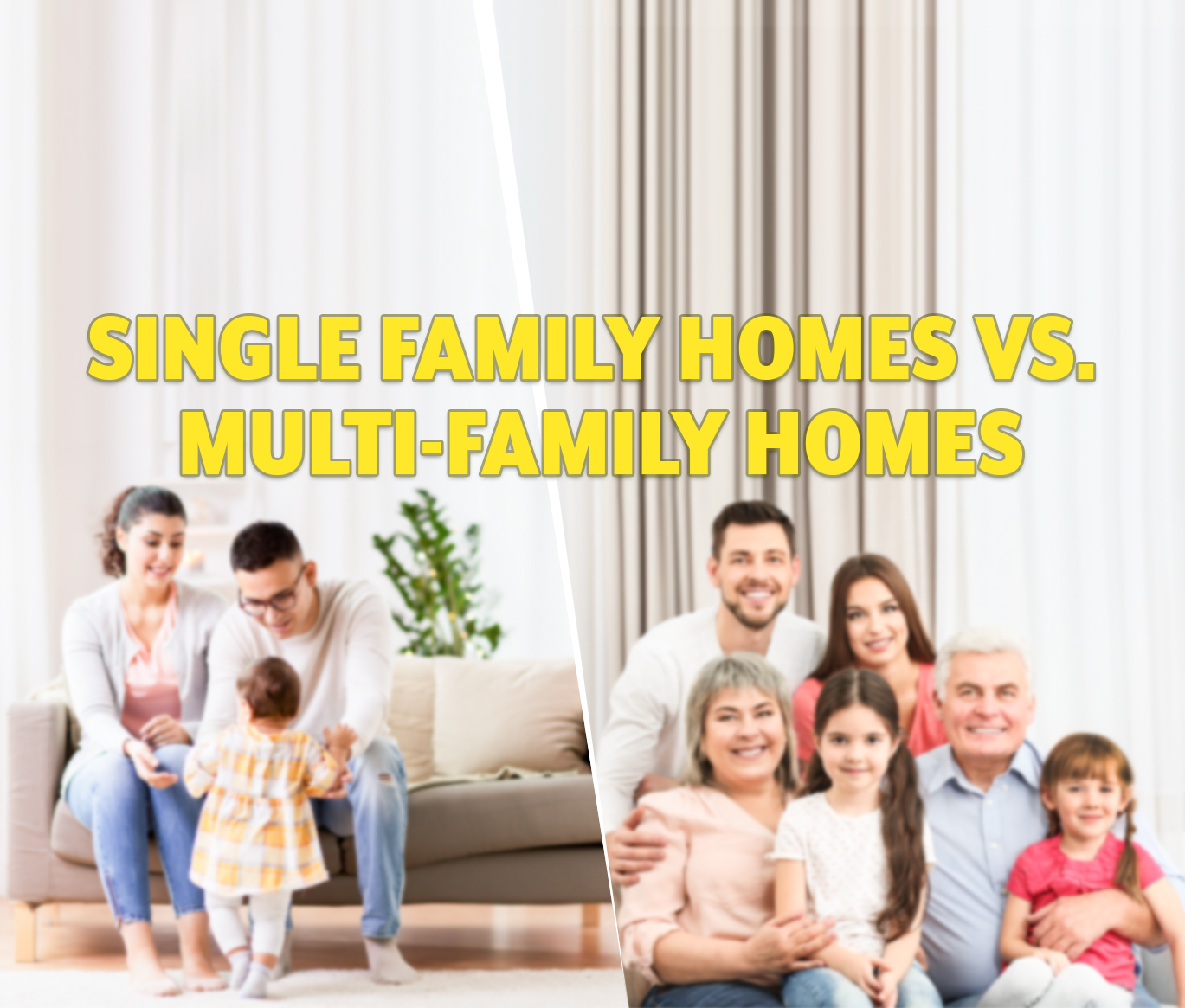 Single Family Homes vs. Multi-Family Homes
Single Family Homes vs. Multi-Family Homes
Everyone desires a luxurious and comfortable home that meets the checklist of their dream home. An excellent home is chosen based on the needs of a family. Single-family homes or multi-family homes are determined based on the family size.
You must have heard the concept of single-family homes and multi-family homes in and around. Let us understand the difference between single-family homes and multi-family homes. The foremost difference is the number of residences they comprise of. A single-family house consists of only one residential unit, whereas a multi-family residence comprises of two – four units. Multi-family homes are called duplexes, triplexes, quadplexes. They are mainly named after the number of units they consist of.
Single-family homes:
A single-family home is a single-unit free-standing residential building that is designed for one family. Single-family homes don't have walls that are shared, it is independent with gives a lot of privacy. These types of homes have one kitchen or single utilities that serve only one family. These homes are suited for nuclear families. If you are someone who prioritizes privacy, then you should buy a single-family home.
Multi-family homes:
Multi-family homes are usually designed for collective families or various families staying under the same roof. Each duplex has its own kitchen and other utilities defined for individual families. Multi-family have various units, but the owner of the property is only one person. Unlike the condo complexes and apartments where every unit has an owner.
The owner of the multi-family homes can rent our units to trusted people while sharing the roof with them. Renting a unit or two can be a reliable source of income.
Pros and cons of single-family homes and multi-family homes:
Space:
Single-family homes offer less space when compared to multi-family homes. There is an independent and comfortable space for you to your chores without disturbance. A spacious home can bring in a sense of luxury.
Privacy:
Since single-family homes do not have shared walls and hence there is more privacy when compared to multi-family homes. You do not have to worry about playing loud music or partying late at night and disturbing people around you.
Price:
People who are looking for affordable houses can opt for single-family homes. It is easier to invest in single-family homes as they have a lower down payment required and are much reasonable when compared to multi-family homes.
Rental Income:
There is no source of income in a single-family home if you are the one who is living in that unit. But in a multi-family home, there are more than two units, and those units can be rented. It serves as a great source of income.
Multi-generational families:
If you are looking for your joint family to live with you or multiple generations to live under one roof, then multi-generational families are the best choice. You can live in your own space enjoying the company of your family. The idea of joint families is slowly fading away due to numerous factors but with multi-family homes, people can live together.
Now that you have a clear idea about multi-family homes and single-family homes you can choose a home that suits your needs and comfort.
If you are looking for a multi-family home, then Pride Group has some amazing luxury homes to meet your checklist. Pride Group is one of the most reputed and trusted developers in Bangalore. Pride Group has developed luxury homes embraced with perfection and top-grade quality. The properties developed by Pride Group have world-class amenities like a clubhouse, gym, swimming pool, garden area, and many others. Each property is smartly located around great infrastructures like famous educational sectors, hospitals, entertainment hubs, and other conveniences. The properties have breathtaking views that can release dopamine in your life.
Buy multi-family homes or single-family homes from the best developers in town. Pride group has exuberant, spacious, and well-designed luxury apartments for sale. Pride Enchanta – II is a project with 2 and 3 BHK apartments nestled in greenery and is located strategically on Mysore road, Vijayanagar junction, Bangalore west. It is affordably priced at Rs. 85*L onwards. If you are looking for 2BHK flats for sale in Bannerghatta Road Bangalore, then Pride Sunrise is the best choice. It is reasonably priced at Rs. 35*L onwards.
Not just apartments, Pride Group has developed modern villas for sale in Bangalore. Pride Crosswind Villas are capacious and luxuriously developed 4BHK Villas, designed to accommodate multi-family homes. Spacious villas located off Bannerghatta, Jigani Road, Bangalore south.
After reading the article you must have understood the difference between multi-family homes and single-family homes. Take your time to understand your needs, research well and make smart investments in trusted developers. If you want to know more about how to invest in a luxury home then, click here to know 8 Luxury Home Buying Tips You Need to Know.