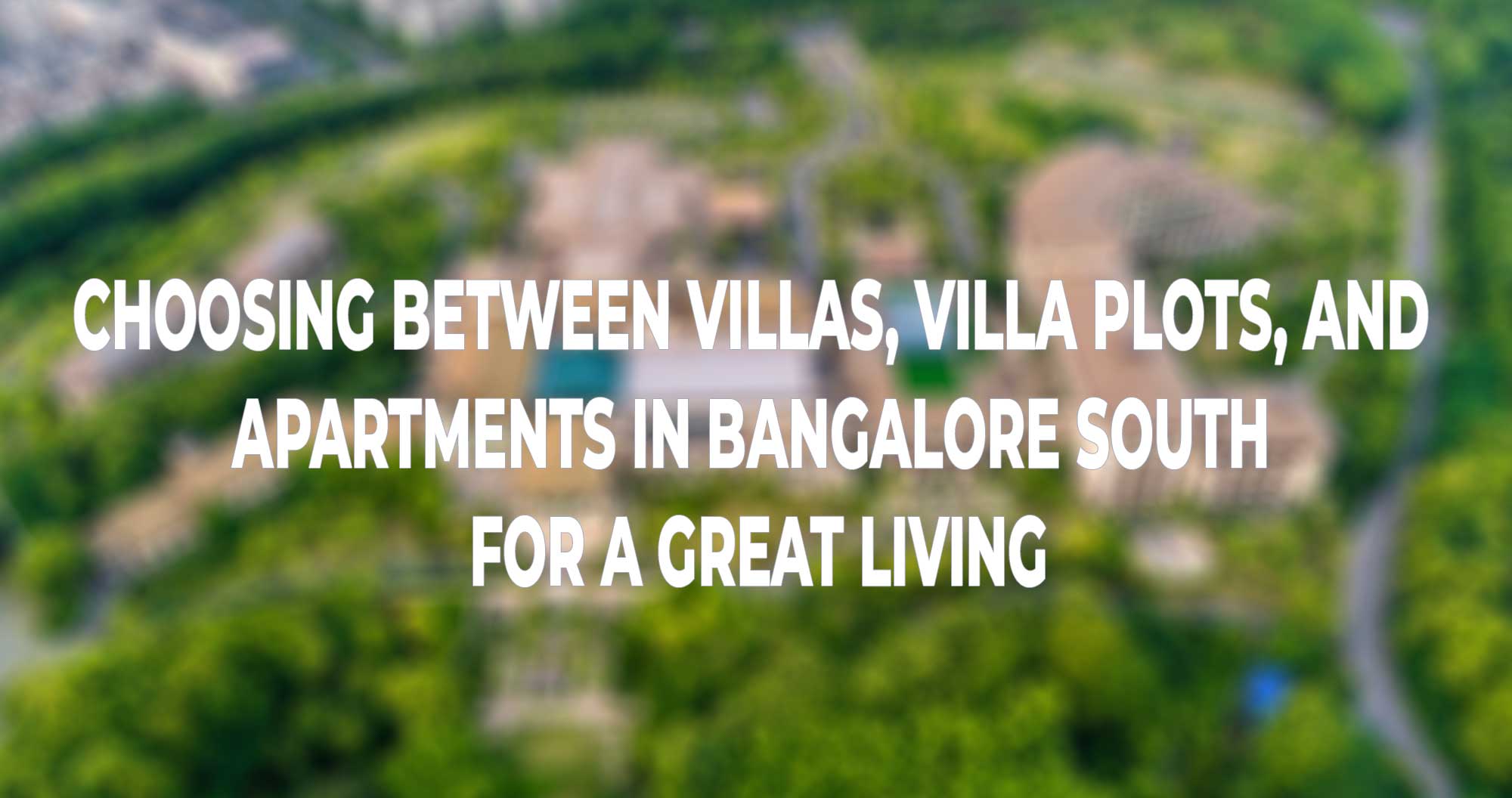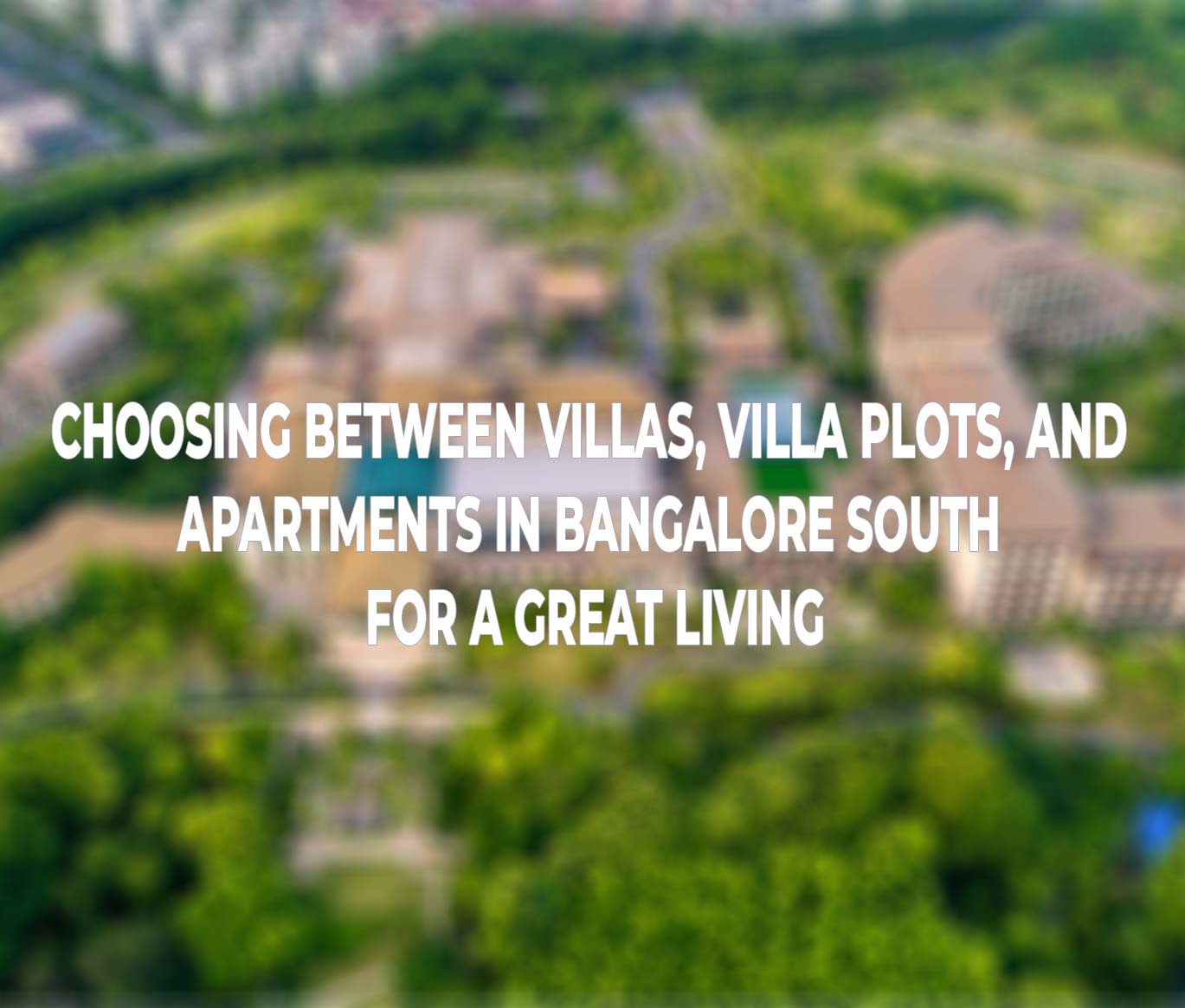 Choosing Between Villas, Villa Plots, and Apartments in Bangalore South for a great Living
When it comes to finding the perfect home in Bangalore South, future home buyers are presented with a plethora of options. Among the popular choices are villas, villa plots, and apartments, each offering distinct advantages and unique living experiences. Choosing between these is not an easy choice. Bangalore's leading builders offer ready-to-occupy villas in Bangalore South, villa plots in Bannerghatta Road, and apartments in Jigani, all of which has something to offer the potential buyers. All that's standing between the buyer and the choices are proper research. But we all know what will drive the decision. Like philosophy, the heart wants what it wants.
Here are some of the essentials that might even sway the heart of the buyer. Let's delve into the features of these housing types and their suitability for great living in Bangalore South.
Villas in Bangalore South: Tranquil Luxury Amidst Nature
Community Living: Villas in Bangalore South gifts the residents with a luxurious and serene living experience. With ample space and privacy, these homes are perfect for individuals and families who value exclusivity. Residents can enjoy the freedom to create personalized spaces while still being part of a close-knit community.
Affordability: While villas may be perceived as high-end properties, various ready-to-occupy villas in Bangalore South are thoughtfully designed to cater to various budget ranges. The promise of luxurious living at affordable prices makes these villas an attractive choice for buyers with budget constraints.
Appreciation: Bangalore South has consistently witnessed appreciation in property values, and villas are no exception. Investing in a villa here not only ensures a comfortable lifestyle but also the potential for excellent returns on investment in the long run. So, your villas in Bangalore South become an asset that can become a partial income.
Location: Villas in Bangalore South are often adorned in meticulous locations, offering residents easy access to essential amenities, educational institutions, and healthcare facilities. Bangalore South's connectivity to major roads and highways further enhances its desirability.
Close to Nature: Bangalore South is renowned for its green landscapes and serene environment. Living in a villa in Bangalore South allows residents to immerse themselves in the tranquility of the area, providing a much-needed respite from the hustle of city life.
Villa Plots in Bangalore South: Building Dreams from Scratch
Community Living: One of the best things about investing in villa plots in Anekal and Jigani is that it presents a unique opportunity to build a customized home while enjoying the benefits of community living. Residents can engage in social interactions which fosters a strong sense of belonging within the neighborhood.
Affordability: Villa plots in Bangalore South are often more budget-friendly than fully constructed villas, allowing buyers to tailor their homes to suit their preferences and financial capabilities. The only drawback of investing in villa plots is that the buyer has to plan the budget for the land and the home separately.
Appreciation: As Bangalore South continues to develop, villa plots in Jigani and Anekal hold promising appreciation potential. These areas are attracting attention from investors and homebuyers alike, making it a wise choice for long-term investment. Bangalore South being an IT hub also add to this.
Location: Both Anekal, Bannerghatta Road, and Jigani benefit from their strategic locations, offering easy access to major business hubs and commercial centers. Residents of villa plots in Bangalore South can enjoy the convenience of modern amenities without sacrificing the tranquility of the surroundings.
Close to Nature: Villa plots in Bannerghatta Road, Anekal, and Jigani provide residents with the opportunity to design homes that seamlessly blend with the natural beauty of Bangalore South. Surrounded by green landscapes, residents can embrace a sustainable and eco-friendly lifestyle.
Apartments in Bangalore South: Urban Comforts and Contemporary Living
Community Living: Apartments in Bangalore South foster a strong sense of community living, as the residents will be sharing common spaces more often. Most of the best builders in Bangalore have apartments in Jigani and on Bannerghatta Road with spaces that provide opportunities for social interactions and a vibrant lifestyle.
Affordability: Apartments are a popular choice for affordable living in Bangalore South. With various options available, buyers can find apartments with ample space that suit their budget and offer the comfort of modern amenities.
Appreciation: Bangalore South's real estate market has seen steady appreciation, making apartments a promising investment option in the region. As Bangalore South's infrastructure continues to grow, apartment values are likely to increase.
Location: Apartments on Bannerghatta Road, Anekal, and Jigani benefit from their urban settings, providing residents with proximity to major employment hubs, shopping centers, entertainment options, and more.
Close to Nature: Despite being in urban settings, many apartments in Bangalore South are thoughtfully designed to maximize natural light and ventilation. Additionally, the best builders in Bangalore South have incorporated green surroundings, and open spaces in their projects to offer a connection to nature.
Pride Group is one such builder that offers a life of convenience and comfort. They offer an array of options to choose between villas, villa plots, and apartments in Bangalore South. But ultimately it depends on individual preferences, budget, and lifestyle. Pride Group's diverse offerings cater to various housing needs, ensuring that future residents can find their dream homes in this serene and promising region of Bangalore.